World+Dog jumps on iPad accessory bandwagon
Apple add-ons also available
The iPad was uncloaked fewer than 24 hours ago, but manufacturers — and Apple itself — are already tripping over one another to launch accessories for the still unavailable tablet.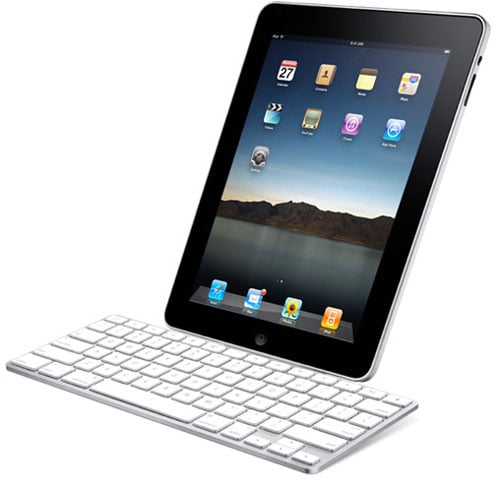 Apple's iPad Keyboard Dock: physical keys, USB power and audio-out
Apple's most noteworthy accessory has to be the iPad Keyboard Dock: a docking cradle stuck to the back of a Qwerty keyboard.
Although the dock only allows the iPad to be used in portrait mode, the set-up should appeal to those put off by the tablet's virtual keyboard.
The iPad Keyboard Dock features a power feed and a connection for external speakers. It will cost $69 (£42).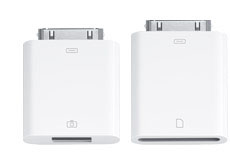 Apple's iPad Camera Connection Kit: USB connector (left) and SD card reader
Apple has also designed two dock adaptors to help overcome the iPad's lack of a USB port.
You get two connectors for $29 (£18) in the cunningly named iPad Camera Connection Kit. The Camera Connector allows USB cables to hook into the iPad, while the SD Card Reader lets the machine access external memory cards.
Accessory specialist Griffin has designed its own range of cases for iPad, including one that makes the tablet look like a Filofax.

Griffin's Elan Passport: Filofax styling for the multi-touch age?
Called the Elan Passport, the iPad jacket flips open to reveal the 9.7in display on one side and pockets for Starbucks receipts on the other.
Elan Passport has a black leather outer cover, a "soft grey microsuede" inner lining and is held closed by a "stretch band". A price hasn't been confirmed.
If you don't want to hide the iPad's hipness, though, then Griffin's FlexGrip should do the trick. It's a silicone skin that covers the tablet's rear while making the machine easier to grip, Griffin claimed.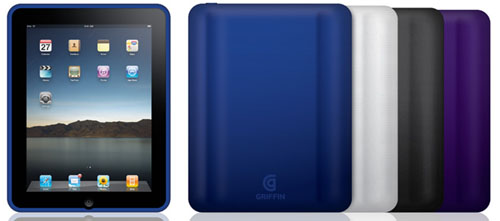 Griffin's FlexGrip: the name says it all, really
FlexGrip will ship in several colours, including purple, black, white and blue. A price hasn't been released.
Apple has released an official iPad case. It's much like Griffin's Elan, but sports the essential Apple logo and can fold back on itself so the tablet can sit in various positions – one is perfect for watching movies on a plane, apparently.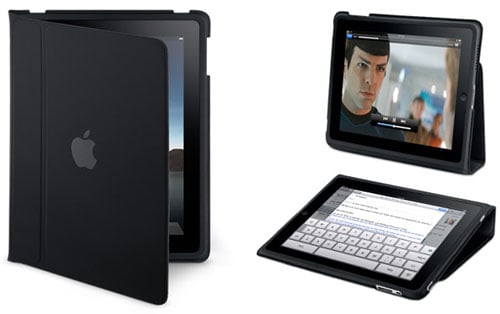 Apple's $39 iPad Case: one cover, several combinations
Online retailer Etsy has already released a $22 (£14) case for the iPad which is designed to make others think you're walking about town with just an old folder under your arm.
The case is made from "forest green cotton canvas", lined with "printed green cotton" and is also padded. It closes with a beige string made from hemp that twists around two brown buttons.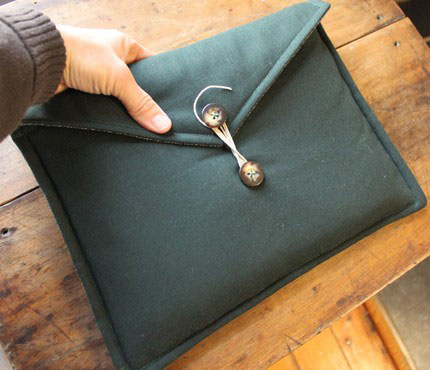 Register Hardware has yet to see any really cool iPad accessories surface, such as an adjustable stand with integrated speakers or clip-on fan powered through the tablet's docking port. If you do, then let us know. ®