Nokia adds police radar to handset
'I clocked you chatting at 120 words per minute, sir'
Police use radar guns to snare speeding drivers. Now Nokia has adapted the technology to improve the way people interact with mobile phones.
The "active radar sensor" – nicknamed Mobile Radar by Nokia – is capable of measuring speed and direction of movement.
The technology behind the sensor is a closely guarded secret, but Nokia has released a video in which someone controls the volume of their phone by lifting their palm further away from the screen.
Can't see the video? Download Flash Player from Adobe.com
Mobile Radar can also measure the walking speed of nearby people. The video shows one chap walking towards the handset and then away from it, while Mobile Radar clocks him at speeds of up to 5km/h.
Nokia believes Mobile Radar could have various uses for handsets, including on the UI and for entertainment.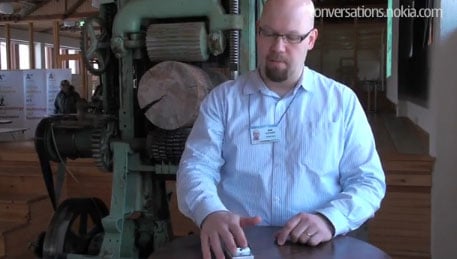 Mobile Radar adjusts phone volume by recognising hand movements
"Don't get your hopes up that you'll see this in a Nokia handset very soon," the company stressed, because for now Mobile Radar is "still just a prototype".
Intriguingly, the notion is not unlike one Apple this week received a patent for in the US. More fuel for the Apple-Nokia spat, perhaps? ®