Asus G51J
In yer face stereoscopic 3D gaming, for a price
Review Late last year we were left somewhat underwhelmed with Acer's attempt at a 3D laptop. The Aspire 5738DZG was underpowered, making 3D gaming nigh-on impossible. Now Asus has entered the fray, with the G51J 3D, which handles the whole 3D thing in a very different way.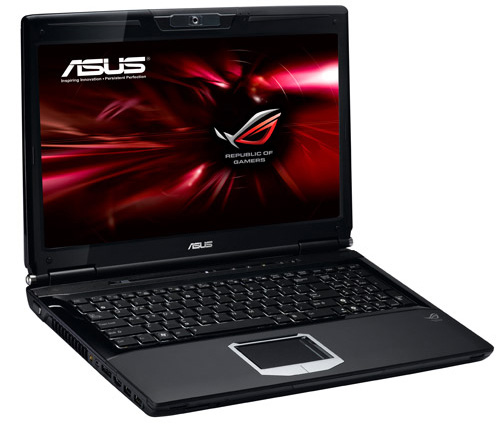 Asus' G51J 3D: combining 3D and raw power
Instead of using a polarised pair of specs, Asus has opted for Nvidia's 3D Vision technology. Just as important, however, is that the G51J 3D is much more powerful under the bonnet, with an Intel Core i7 720QM 1.6GHz processor, 4GB of DDR3 memory and Nvidia GeForce GTX 260M all combining to provide far more oomph than Acer's attempt. As you might expect, this also means it will set you back a fair bit - £1,699, to be precise.
It's a fairly bulky piece of kit, measuring 375 x 265 x 41mm. The battery also pokes out from the rear, which is a shame since given the size of the laptop there should have been room to keep it in within the confines of the chassis.
The laptop's styling is questionable. The lid looks like Wolverine has gone to town on it, with a large tear motif sitting in the middle. Asus has also deemed it necessary to adorn the chassis with lights – two strips on either side and a third on the lid – as well as illuminating its Republic of Gamers logo. Somewhat annoyingly, it's not possible to switch these blighters off. Worse still, leave the laptop in standby with the lid closed and the two lights on the top will endlessly flash.
LEDs have been put to far better use with the backlit keyboard. A variety of brightness settings are available, including switching the backlight off altogether. The flexing exhibited by the keyboard isn't quite so impressive, and both the Enter and arrows keys have been slimmed down in order to fit a reduced-size numeric keypad.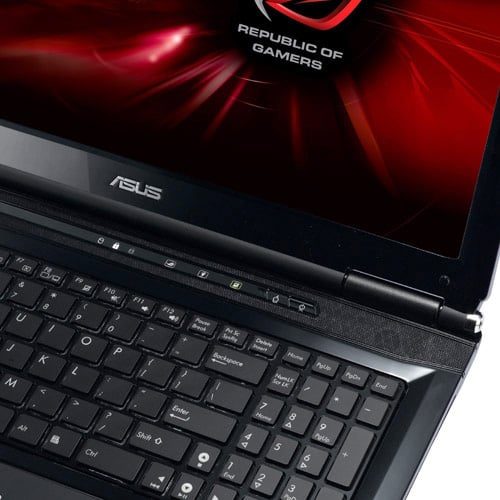 The backlit keyboard is a nice touch
Sat just above the keyboard is a touch-sensitive strip with three controls for disabling the touchpad, changing the power mode and activating the 3D engine. Two more traditional buttons sit alongside this strip – one's the power button, the other loads the Linux-driven ExpressGate OS. Asus claims an eight-second startup time for ExpressGate, but it took us 30 seconds to go from a cold boot to a working browser window.