First mass-produced camera heads to auction
Gadgets geeks shocked by lack of Flickr support
An extremely rare model of the world's first commercially produced camera will be auctioned later this year.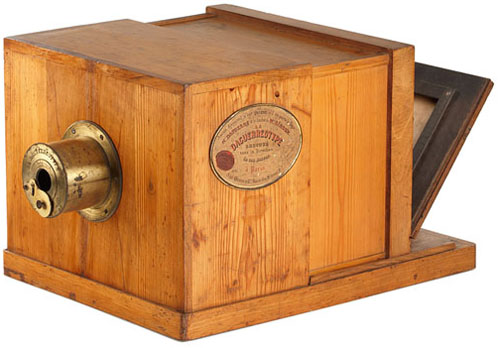 The Daguerreotype originally cost 400 French Francs - an average yearly salary in 1839
The Giroux Daguerreotype camera was designed by Louis-Jacques-Mande Daguerre and produced in 1839. It will be auctioned on 29 May in Vienna for a starting price of €200,000 (£173,027), though auction house WestLicht Photographica Auction warned that the camera could fetch as much as €700,000 (£605,594).
Unofficially referred to as the Daguerreotype camera, the shooter has a sliding or "double box" body.
The photographer achieves a fixed focus by pulling the smaller inner box away from the front-mounted 15in "achromatic landscape lens".
Image exposure time takes anywhere between three and 30 minutes – depending on light intensity – and greyish stills are the standard.
The camera is described as being in "excellent original condition" and comes with the original 24-page instruction manual, written in German.
If you can't stretch to 600 grand for a camera that doesn't even feature facial recognition, geo-tagging or interchangeable lenses, fear not. The Daguerreotype's manual will soon be translated into numerous languages and published alongside the original blueprint. ®