This article is more than 1 year old
Samsung ST550
Two-screen camera
Review Samsung's ST550 is a rather innovative point-and-shoot compact camera as it features both a front and back LCD. The idea is to make self shots and timed group pics easier to compose. With the ST550, standing with arm outstretched and looking silly – just to end up with snapshot of just half your head in front of the Tour Eiffel – will become a thing of the past.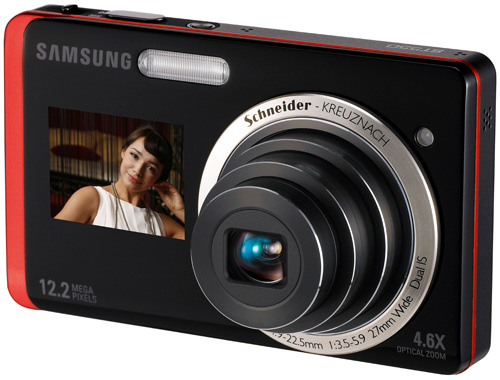 The narcissists' choice: Samsung's ST550
The ST550 is a slim 12Mp compact with a 4.6x optical zoom 4.9-22.5mm f-3.5/5.9 lens equivalent to 27-124mm on a 35mm camera. The LCD on the back is a 3.5in touchscreen LCD and a 1.5in front LCD to take perfectly framed self-portraits. It also sports an 80-3200 ISO range and a 1280 x 720 HD video recording at 30fps. Designed for gadget lovers and budding narcissists, the ST550 will set you back around £260.
With the ST550, Samsung leads the way not only in originality but also in technology. The large rear LCD screen has an impressive resolution of 1,152k dots and uses a very clever, if not perfectly functional, touchscreen technology. The Smart Gesture User Interface and motion-detection system let you access all the camera settings directly on the screen through a series of interactive finger taps, hand gestures and camera tilts.
If you want to scroll through your photos you can just tilt the camera one way or the other or if you want to delete a picture you just have to draw an X on it with your finger. Should you not want to use the built-in orientation sensor that allows for hand gesture recognition you can still operate the camera by tapping on-screen buttons.
Also very handy is the One Touch Auto Focus feature that allows you to focus on any part of the scene by just tapping on the desired area of the image you see on the screen. Once you select the focal point with your finger, you don't even have to press the shutter, as the camera will automatically take the picture after 2 seconds.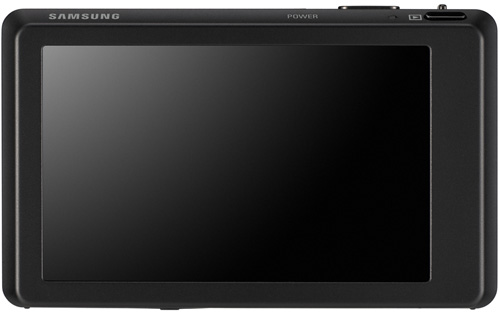 A great size for composition, but the touchscreen can be a fiddle
By relying on to the touchscreen technology borrowed from its latest mobile phones, Samsung can do away with rear buttons and make space for the very large size of the main screen. Unfortunately you can only activate the touchscreen with bare hands meaning that shooting in cold weather is a painful experience.