This article is more than 1 year old
Samsung ST550
Two-screen camera
Actually the display seems to also be unresponsive to cold hands, which is a problem. While the touchscreen menu and functionality is intuitive and well designed, it is a bit tricky and difficult to get used to. Touchscreen technology might be the way to go in the near future but for now its application on cameras is still in its infancy, delivering a temperamental and unreliable response, that's certainly slower than old fashion dials and buttons.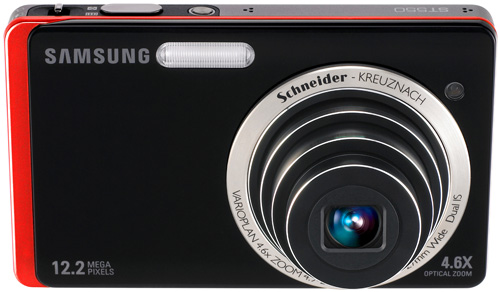 Tilting the camera will bring up various menu modes
The tap on/off button of the front screen, for example, was really hit and miss and the finger scrolling of the library was difficult to control, spinning easily out of your hands. However the good news is that, thanks to its high resolution and generous size, the rear LCD screen is the clearest and sharpest around, making framing and playing back pictures a real pleasure.
The front screen is virtually invisible when not in use and has a few clever features that facilitate this its self portraiture raison d'être. The screen comes on when you tap on it and automatically goes onto Self-Portrait mode, which, in common with the Portrait Mode, uses Smile Shot and Blink Detection technologies to choose the best time to automatically release the shutter.
Among the cleverly conceived features of the front display there is a short animated clip designed to encourage children to look at the camera and a visual count down when using self-timer that lets you know how long to go before the shutter is released.
The ST550 has plenty of user-friendly features to show off. A Smart Auto mode automatically detects scene conditions and selects the best settings, the Beauty Shot feature fixes skin imperfections while the Photo Style Selector consists of a variety of in-camera creative effects that, according to Samsung are there 'to evoke a mood' and include colour manipulation, negative, retro and soft effects.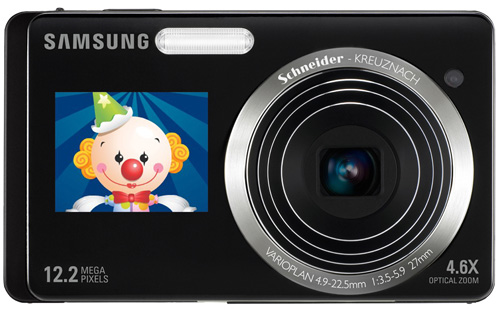 The front screen has a countdown which can be altered to grab the attention of small people
A neat addition that makes it easier to browse through a large library of photos is Samsung's Smart Album preference that lets you organise your images in different folders arranged by date, face, and colour, content or simply as favourites.