Samsung ST550
Two-screen camera
On paper the ST550 has a good ISO range, but tests showed quite a poor handling of noise, with fuzziness already showing at ISO 200 and higher speed settings producing an alarming amount of noise. High ISO capabilities, the inclusion of a Dual Image Stabilisation system (optical and digital) and a maximum shutter speed of 16 seconds would suggest a good low-light performance but this did not materialise in trials.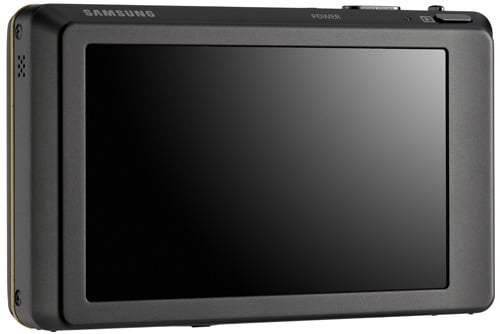 Smart mode detects scenes, but doesn't always offer the most obvious settings
Furthermore, the automatic scene detector did not seem to select the most useable settings for a night shoot. With the Night Scene mode, the camera insisted on selecting an ISO speed of 80, resulting in unnecessarily slow combination shutter speeds, which produced blurred images.
Night shoot mode appears to set the camera up for long exposures and the minimum of noise, which is ideal for tripod work, but not for handheld snaphots. Settings had to be manually adjusted to have a half decent low light shot.
The flash worked really well on indoor photography and had a bright and clear low sync but tended to wash out details in close-ups or macro. For a point-and-shoot camera, image quality appears generally good with respectable handling of chromatic aberrations, little barrel distortion and accurate, rich colours.
However, dig a little deeper and those first impressions give way to more erroneous artefacts. Our sample images feature a mixture of both 12Mp 4x3 aspect shots and the widescreen 9Mp shooting option and inspecting the crops at 100 per cent reveal the images can be quite fuzzy. The problem seems to be a combination of excessive noise suppression flattening-out details in the image processing and mediocre lens quality that lacks punch and sharpness, especially at maximum zoom.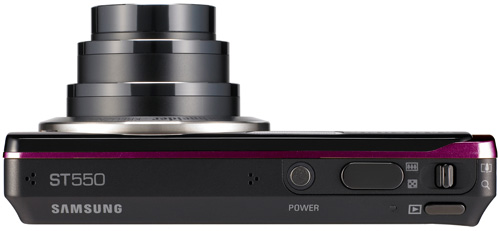 The zoom action could be smoother
In use, the zoom slider feels flimsy and has a less than smooth motion. It is sometimes unresponsive and generally bumps its way through the different focal lengths. Yet the ST550 has an excellent Macro mode for this level of camera, which allows you to focus up to 5 cm away. Response times are also good with little shutter lag and a fast Auto Focus.