Security bugs reinfect financial giant's website
Ameriprise and the case of the relapsed XSS
---
Five months after Ameriprise Financial fixed a bug that could have helped criminals steal user authentication credentials, the financial giant's website is vulnerable again.
The flaw looks almost identical to one The Register reported in August. It allows attackers to inject malicious code that steals user cookies into official Ameriprise webpages. Websites often use such files to authenticate users before giving them access to restricted content or services.
The vulnerability was discovered by Russ McRee, the same HolisticInfoSec.org researcher who spent five months trying to get Ameriprise to fix the previous bug. He found that it was possible to inject the malicious code into a section of the Ameriprise site that investors use to find financial advisers.
It can be exploited by tricking a user into visiting a booby-trapped web link such as:

http://locator.ameripriseadvisors.com/?zip=%3C&x=15&y=14&page=results&solc_id=19819&vend_cd=ALA&offer_id=%22%3E%3CSCRIPT%3Ealert%28document.cookie%29%3C/SCRIPT%3E

The URL generated the following result, demonstrating that it was possible for attackers to use javascript to access cookies set on the site.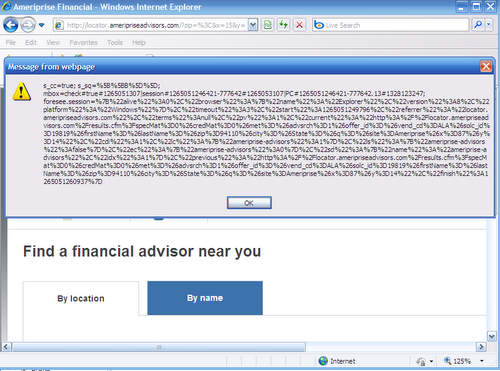 An Ameriprise spokesman said he was looking in to the report.
Update:
The bug was fixed shortly after this article was published. ®