Missile missed in criticism-busting interceptor test failure
Giant seagoing golfball fingered as culprit
---
The US Missile Defence Agency (MDA) has announced a failed test of its controversial Groundbased Midcourse Defence interceptor. The agency blamed the test failure on problems with the Sea Based X-Band radar, well known for its resemblance to an enormous golfball mounted on an oil rig.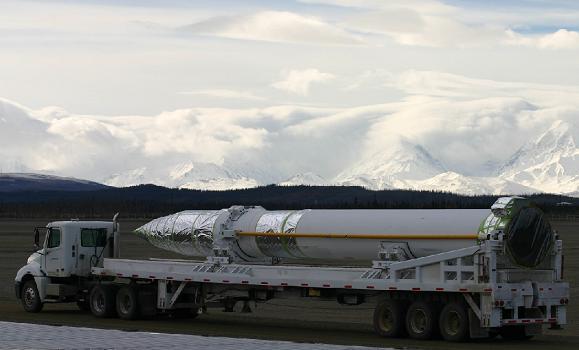 Reassuringly expensive.
In a brief statement, the MDA said:
A target missile was successfully launched at approximately 3:40 pm PST from the US Army's Reagan Test Site at Kwajalein Atoll in the Republic of the Marshall Islands. Approximately six minutes later, a Ground-Based Interceptor was successfully launched from Vandenberg Air Force Base, California. Both the target missile and Ground-Based Interceptor performed nominally after launch. However, the Sea-Based X-band radar did not perform as expected.

Program officials will conduct an extensive investigation to determine the cause of the failure to intercept.
The floating golfball radar is intended to track enemy ballistic missile warheads soaring toward the United States outside the Earth's atmosphere. Its ability to sit far out at sea is intended to offer improved advanced tracking of weapons coming in across the Pacific - as they would if fired from North Korea, for example, though that nation has yet to conduct a successful test of a missile capable of reaching the continental USA.
The seaborne radar's role in yesterday's trial will have been to track the test warhead and vector the intercepting GMD "kill vehicle" in until its own telescope tracker could detect its prey.
The large, powerful GMD interceptor rockets are the only weapons in the MDA's arsenal designed to knock out ICBM warheads at the highest, middle portion of their flight. Other technologies such as the Standard SM-3 naval interceptor and the Airborne Laser jumbo-jet raygun are intended to swat missiles in either the ascent or descent stages of their trajectory, while nearer to Earth. The GMDs have had a spotty test record, however, and Russia mounted huge opposition to their emplacement in eastern Europe.
Yesterday's test was intended to quell doubters of the entire missile-defence approach, with the target missile deploying countermeasures. Critics of the GMD programme say that tests thus far, which have not included such spoilers, have been too kind to the intercept tech.
The MDA isn't disclosing whether the intercepting kill vehicle had simply failed to reach the "threat cluster" of warhead(s) and decoys, or whether it had reached the cluster but hit a countermeasure rather than the actual target. We asked for clarification on this, and were informed that no more information will be available "probably for a few weeks". ®
Similar topics
Broader topics