Although the capacitive screen is an improvement over the resistive screen of the N97, the Qwerty keyboard – which is activated by turning the phone 90 degrees into horizontal mode – is fiddly. It's far too small, the visible portion is tiny. Strangely on the Alphanumeric pad, which is the default for Portrait input, T9 is turned off by default. Needless to say, text entry proved somewhat erratic.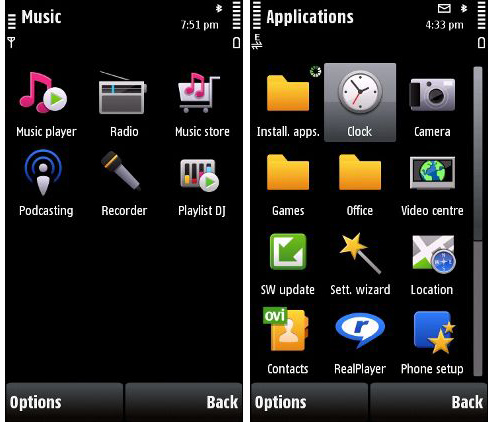 The default music and apps folders
Shoehorning S60 into a touch device produces inconsistencies which otherwise weren't apparent. Usually, two sequential clicks (or a double clicks) are required to select a control (give it focus), then change its state. Yet in the main menu, a double tap will not only open a folder, but open the default app in that folder (say, the Clock) which you can't see.
Years of neglecting S60 usability issues are plain, here. For instance, the home screen shows four apps by default. How do you suppose you change those four apps? How about double tapping one to activate a menu? How about a tap and hold? In fact nothing so simple. It takes eight clicks and some good guesswork to drill into a settings menu far, far away, to change these.
Then you'll find a long scrollable list of about fifty radio buttons – a list that doesn't include the most recently installed apps. The list of radio buttons dates back to 2002, but this is the first time I've encountered this bug on a S60 phone. The short-lived N-series 'multimedia key' has returned, in a new guise. It's evoked by tapping a a small square just off the screen. This brings five unlabelled icons. These can't be configured.
You won't fall in love with the Qwerty keyboard. You can tell things are not as they intuitive as they could be when the manufacturer needs to tell you where the message text is being displayed. There are other pretty whacky inconsistencies. If you drag an item in the Settings (there are only six) then all six move up and down. I can't think of a reason why they should, but there you have it. The cumulative effect of all these inconsistencies is that the phone does not appear to be a deterministic system.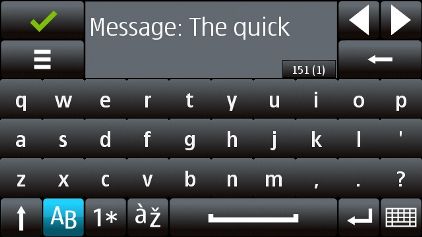 Data entry from the touchscreen keyboard could be more intuitive
The X6 is far from the most lavish design we've ever seen from the Finns, there are few attempts at luxury here, it's a no frills upgrade from the 5800 Xpress. The back cover is the flimsiest I can recall on a Nokia handset, and still leaves a tiny gap at the top. The three main onscreen keys are under a single same plastic strip. It looks neat, but looks are at the expense of ease of use. There's nothing to indicate the importance of the central Menu key.