Nokia has bundled its Navteq Maps purchase – since rebranded as Ovi Maps – for free for some time. Now it offers free turn-by-turn Navigation for drivers and pedestrians. It's still much harder to use than Google's Maps, which began the rush to offer free directions, but Nokia's offering caches the maps offline, and shows street numbers. Google's shows bus stops, however - and the killer integration of Street View into the Maps application itself. For all the fuss around Ovi, downloading Google Maps is one of the first things people will do with an X6.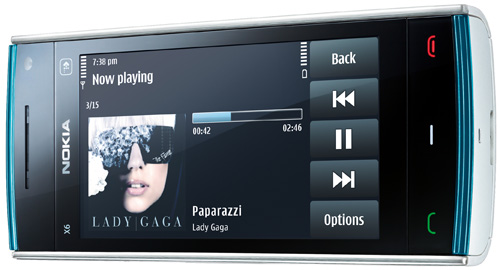 Storing up trouble? The unit doesn't default to store data on the 32GB drive
This review is a tale of two devices, and the performance couldn't be more different. They were both X6 phones, both had identical firmware, and the only difference was the amount of free space on the C:\ drive, namely a small partition separate from the whopping 32GB flash drive, largely devoted to system files. You may wonder why, 30 years after Bill Gates made MS-DOS bug compatible with CP/M, any device should have a 'C:\' drive. Let's put that to one side. The issue is why encumber the user with having to deal with two partitions? It could be completely transparent.
The first X6 that Nokia sent was very flakey, so much so that it couldn't adequately multitask. Trying to activate the camera when music was playing, and the phone flashed up the terrifying message: 'Deleting some items from memory' – imagine how that goes down with a new or nervous user – before dumping you out of both Music Player and Camera. The device had around 45MB left on C:\. The replacement X6, otherwise identical in every way, had 250MB free on C:\, and exhibited no such problems. Multitasking was much smoother.
The problem is that C:\ is the default for so much data: incoming files, downloads, mail attachments - they all fill up the tiny C:\ partition first, unless you manually intervene. So without a lot of TLC, phone number two is destined behave like phone number one in time.
Nokia ships an above-par WD-500 wired headset with the phone, which gives you track forward and back functionality. Which is just as well, as you need to unlock the phone to do this using the screen - a mind-boggling decision. As for the Player, it's changed little since the serviceable S60 3rd edition music client familiar to millions, seen on the N73 and N95 8GB Music Editions. There's no 'Now Playing' option, however, you may return to the home screen where the track, but not the artist, is displayed in a fairly small font.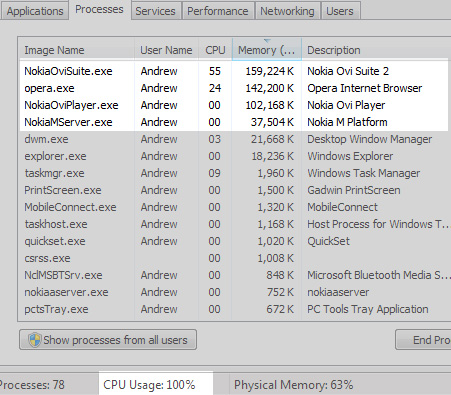 Ovi Player stalled, maxing out the CPU at 100 per cent, performing a simple transfer
To take full advantage of Comes With Music, you're required to instal the Ovi Player. Nokia also smuggles in something called Ovi Suite, which is the already-notorious replacement for the Nokia PC Suite software.