December chip sales reach 2007 levels
Looking for growth in 2010
---
The Semiconductor Industry Association, a trade group representing the interests of US-based chip and fab equipment makers, said today that worldwide chip sales in 2009 ended on a slight - and expected - down note. However, it said conditions in December were considerably better than a year ago when the bottom was falling out of the global economy.
The SIA, which presents its figures in three-month rolling averages to fill in troughs and smooth out the peaks in the ups and downs of the chip biz, said that semiconductor sales in December came in at $22.4bn, up a remarkable 28.9 per cent from the year-ago period. The recession in the United States started in December 2007, and at that time, chip sales came in at $22.3bn, and over the next 12 months, as the recession gathered steam and went global, chip sales worldwide were hammered down by 22 per cent to $17.4bn. Basically, the recovery in 2009 has put December sales back on their 2007 footing.
For 2009, global chip sales were $226.3bn, down nine per cent, but they were well ahead of the SIA's forecasts in the middle of 2009 for $219.7bn in global sales.
"2009 turned out to be a better year for the global semiconductor industry than expected," explained George Scalise, SIA's president, in a statement accompanying the figures.
"A strong focus on inventories throughout the supply chain mitigated the impact of the worldwide economic downturn and positioned the industry for growth as the global economy recovers."
Scalise said that cell phones and PCs account for 60 percent of semiconductor consumption worldwide and that in 2010 the SIA expected that unit sales for these devices will grow "in the low-to-mid teens, providing a solid platform for chip sales".
Scalise added that consumer electronics will see growth in the "mid-single digits" and that enterprise IT spending is on the mend. Still, SIA expects a return to normal seasonal patterns in the first quarter, which means a slowdown in January, February, and March.
SIA says that 2010 is "well positioned for growth," but it did not hazard a guess as yet where global semi sales would end up for the year.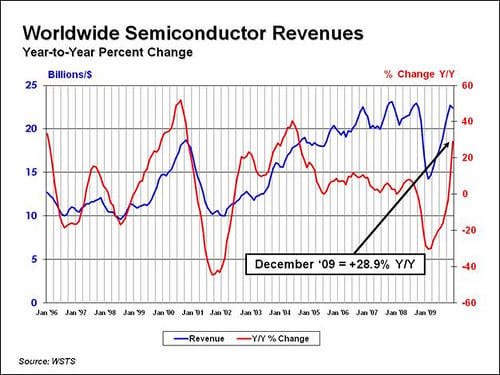 As the chart above shows, 2010 has some work to do if the semiconductor industry hopes to get back to the sales levels hit in 2007, which is the industry's peak for annual sales at $255.6bn. To get back there, global revenues would have to grow at 12.9 percent in 2010.
According to a just-released report on the semiconductor industry put together by KMPG in conjunction with the SIA, called The Road to Recovery in the Global Semiconductor Industry, which you can read here, the top brass polled at 96 chip makers are expecting growth in 2010 and their confidence is returning.
The confidence index and expectations for revenue growth at these chip makers are exact mirrors of what these companies were telling KMPG in late 2007, before the recession hit and knocked the wind out of their plans for growth. Some 54 per cent of the execs polled said they expected their revenue growth to be higher than 10 per cent, and 18 per cent of those surveyed by KMPG said they expected growth of over 20 per cent this year.
As much as 87 percent of respondents said growth would be at least five per cent. (About half of the companies polled said they would increase both capital spending and research and development spending by more than five per cent, too). So there is an outside chance, it seems, for 2010's chip sales to kiss or beat 2007's levels. ®