Sky 3D soccer fails to score
But first televised 3D footie match has its moments
Hands Eyes On As Manchester United scored its first goal against Arsenal yesterday at the Emirates Stadium, a lucky few secretly soaked up another football triumph: the world's first football match broadcast in 3D.
The game was the first live sporting event broadcast over Sky's soon-to-launch 3D TV channel, and I was invited down to one of nine pubs chosen to show the game.
Walking into the Railway Tavern in London's Liverpool Street, I was unimpressed by Sky's attempt to wow the punters: a single 42in LG 3D TV. Sky has surely invested millions of pounds creating a 3D TV channel and asking some 150 attendees to watch the game on just one screen seemed a little cheap.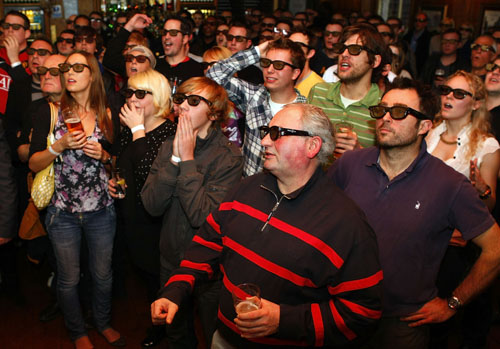 Footie fans enjoy the first 3D soccer broadcast, yesterday
Nonetheless, I put on my 3D glasses - the polarized type you get in cinemas - and gazed in wonder at the Sky HD logo hovering before my eyes. I was standing 15 feet away from the screen and, despite its size, the 3D effect was clear – just like going to the cinema.
According to Sky, "specially engineered" 3D camera rigs housing a total of 16 HD cameras transformed the match from two dimensions into three and, as the players emerged from the tunnel, the effect was mesmerising.
Players seemed to float before me as they walked and the physical distance between, say, Rooney and Scholes was clear to see.
"It looks like Rooney is walking right at me!" one Manchester United fan called out.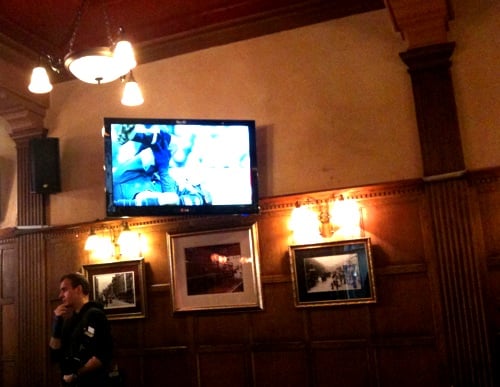 The small screen: will 3D sports be a hit in Britain's boozers?
The 3D broadcast continued to impress me as the cameras switched between shots of the assembling players and of Man U's Alex Ferguson chewing gum nervously beside the pitch.