This article is more than 1 year old
Google reveals nonexistent Chrome tablet
The GPad
Google has unveiled a series of image and video mock-ups of a tablet PC based on its Chrome OS, the still-gestating operating system centered around its Chrome web browser.
Mountain View uncloaked its tablet "concept UI" early last week - two days before Steve Jobs announced Apple's long-awaited tablet, the unfortunately named iPad. Google user interface designer Glen Murphy hoisted the mock-ups onto the Chromium Projects site, home to the open source incarnations of Chrome and Chrome OS.
Murphy calls these "visual explorations of how a Chrome OS tablet UI might look in hardware." With a series a still images, he explores various software keywords, tool menus, and application launchers as well as a UI that puts multiple browser windows on the same screen. Chrome OS is essentially a Linux-based operating system that runs a single local application: Google's browser.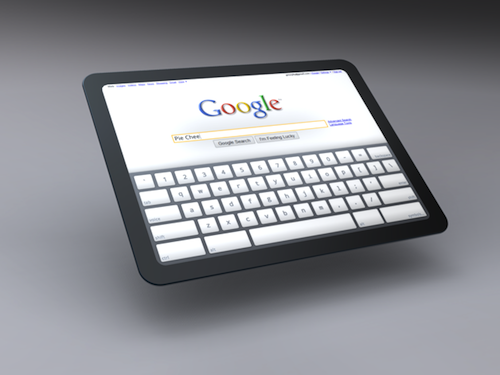 GPad?
With a video mock-up, Murphy also shows how the user might navigate a Chrome tablet UI using nothing but their fingers: launching applications, resizing windows, and scrolling through pages. Yes, shades of Apple's multi-touch.
Google has proposed a touchscreen interface that expands the Chrome "chrome" - i.e. the area that wraps around the browser proper. "For touch screens, we provide much larger tab and toolbar targets than on standard chrome. This UI takes up more screen space, but is ideal for portrait devices, and can be autohidden to have full-screen content," the company writes.
"This treatment could be used on any edge of the screen, and it may be preferable to use the bottom edge depending on the device."
Google has said that it will initially offer Chrome OS for netbooks, beginning at the end of this year. But as it unveiled Murphy's tablet UI mock-ups, it also suggested several other possible form factors, including a laptop with a 15- to 17-inch screen, a desktop with a 24- to 30-inch screen, and a massive 40- to 60-inch "display" form factor.
"While its primary focus is netbooks, Chrome OS could eventually scale to a wide variety of devices," reads Google's form factor UI post. "Each would have vastly different input methods, available screen space, and processing power."
The proposed tablet would have a 5- to 10-inch screen. "On tablets, the UI would be adjusted to handle larger touch targets," the post reads. "Initial explorations have maintained the same basic chrome layout, but enlarged the controls. Icons could be placed above tabs to provide larger, square targets. Panels would be placed along the bottom edge and could be opened with upward dragging motions."
According to industry rumor, Google and hardware manufacturer HTC have been working on a Chrome OS tablet prototype. HTC manufactures the inaugural Googlephone, the Nexus One. ®