Yes! It's the iPad jacket!
Wear your Kindle tablet with pride
'Is that an iPad in your pocket or are you just pleased to see me?' If you're wearing the latest gadget jacket from geek clothing firm Scottevest then your answer will probably be the former.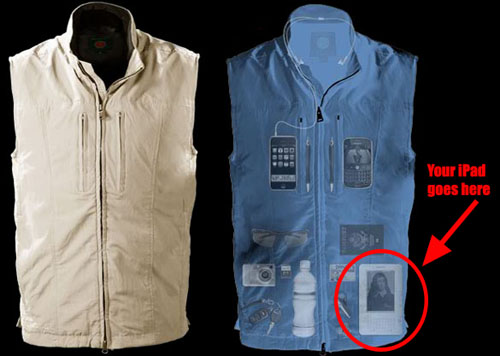 Scottevest's Travel Vest: the World's first iPad compatible coat?
That's because the company's Travel Vest - North American for 'waistcoat' - is "compatible with iPad", meaning it has an inner pocket large enough to accommodate Apple's 243 x 190 x 13mm tablet.
The $100 (£71) jacket – available in men's and women's styles - only features an iPad "TabPocket" in sizes large and above, Scottvest stressed.
Register Hardware thinks the pocket was originally designed to hold the Kindle – given that the pictured body warmer shows Amazon's e-book reader inside. But marketing the jacket as iPad friendly is a clever spin on Scottevest's part - check it out online. ®