Hard disk drive capacity growth rates are slowing and two 2.5-inch drive capacity increases are in qualification with drive manufacturers, according to TDK.
The firm is a major hard disk drive head manufacturer and its read/write heads have to match the areal density capabilities of the media they are moving across. In its results presentation for its third fiscal 2010 quarter, it showed a chart (pdf) depicting areal density increases and timescales.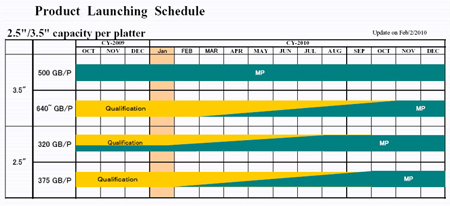 TDK product launch schedule
In the 3.5-inch drive class, 500GB/platter drives are shipping now and 640GB/platter (or thereabouts) read/write heads are in qualification with TDK's OEM customers, the drive manufacturers. It anticipates that qualification will finish in the March 2010 to October 2011 period as manufacturers start mass producing 640GB/platter drives, meaning up to 2.56TB 3.5-inch drive capacities.
Four platter 2TB SATA drives have already been announced by Hitachi Data Systems, Seagate and Western Digital. Having an extra 560GB, a 28 per cent increase will be nice, but doesn't look that dramatic when we see what TDK sees in the 2.5-inch drive area.
Here 250GB/platter drives are shipping and TDK has heads in qualification for both 320GB/platter and 375GB/platter. That would enable 640GB and 750GB twin platter 2.5-inch drives. The 320GB platter qualification is ongoing in some OEMs, with others shipping such drives now. The qualification period is expected to end in September this year. Qualification of 375GB platters is ongoing with drive shipments expected to start this month.
According to this chart, one drive manufacturer at least is going to ship a 750GB, 2-platter, 2.5-inch product this month. Western Digital already has a 3-platter, 2.5-inch Scorpio Blue offering up to 1TB, which implies a 333GB/platter capacity. Toshiba has a 640GB, 2.5-inch MK6465GSX drive announced last September and Seagate has a Momentus 5400.7 at the same capacity, as does WD with its 2-platter Scorpio Blue. Hitachi GST does not, so could that be the mystery OEM?
The 375GB/platter qualification period ends in September this year, at which point all TDK's OEMS will be shipping, we expect, 750GB, 2-platter 2.5-inch drives.
There appears to a rough 2:1 correlation between 2.5-inch and 3.5-inch platter capacities. That would give us a 640GB 3.5-inch platter equivalent of the 320GB 2.5-inch platter, which matches what TDK is seeing in the 3.5-inch qualification area. But it would give us a 750GB 3.5-inch platter based on doubling the 375GB 2.5-inch platter capacity. Yet there is no qualification on the TDK chart for a 750GB/platter 3.5-inch drive. Four platter product at that areal density level would provide a 3TB drive.
Is there a deliberate delay here? Stifel analyst Aaron Rakers says that TDK has moved its expected full transition to shipping 640GB 3.5-inch drives back six months, from May this year to the October/November period. Regarding the 2.5-inch area he writes: "TDK's updated forecast calls for a full manufacturing production ramp to materialize in the July/August 2010 time frame (versus a August 2009 assumption of a manufacturing production materializing in the December 2009 time frame)."
He thinks such a slowdown is good news for drive manufacturers on the pricing front, meaning they should be more profitable. ®