Chinese e-tailer lights up ciggie-lighter phone for smokers
Puff piece
Online gadget retailer Chinavasion has launched a mobile phone with integrated... cigarette lighter.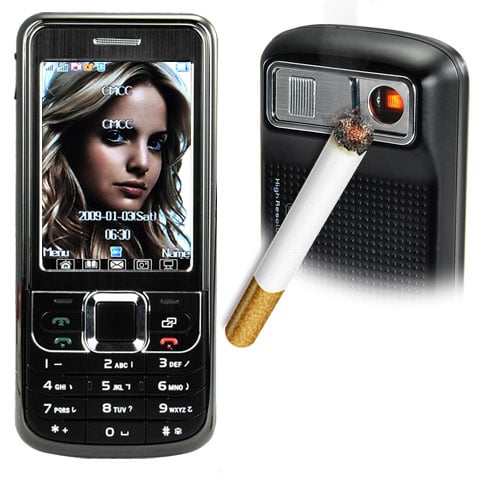 Chinavasion's Machismo: puff while you chat
The Machismo is supposedly "the world's hottest cigarette lighter mobile phone". Actually, it's probably the world's only cigarette lighter mobile phone. A "safety latch" on the phone's rear simply slides back to reveal a cig-friendly element that Chinavasion said heats up within two seconds.
April is a little too far away for the Machismo to be a joke. According to Chinavasion, the Machismo "is not a toy" and, yes, it can be used for making telephone calls.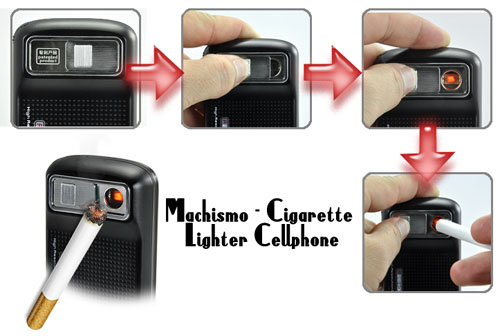 So simple even a child could do it, sadly
Machismo's other features include a 2.5in touchscreen, tri-band GSM connectivity and two SIM card slots.
While smoking your cigarettes, the phone can also waft smooth MP3s into your ears though its headphone jack. You can even snap pictures of you and your nicotine-stained buddies using the Machismo's 1.3Mp camera.
Sadly, the handset doesn't ship in 'Marlborough Red' or 'B&H Black'n'Gold' body colours – the only hue option is "black with silver detailing".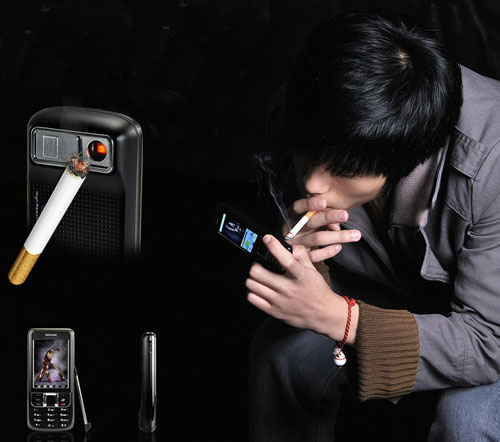 "The perfect solution for your on-the-go guy life!" It says here...
The Machismo is available online now, priced at £42 each. Packs of ten or 20 do not appear to be available yet. ®