Verizon Wireless will bring another Android-based Motorola smartphone to the US market next month. A glance at its specs indicates that it should be less expensive than Moto's flagship Droid.
That's the good news.
The bad news is two-pronged. First, the new phone will run Android 1.6, and not the more-capable Android 2.0 that's on the muy macho Droid. The second bit of bad news: It will be saddled with a thoroughly ludicrous name: the Devour. Or, in all-caps Motospeak, the DEVOUR.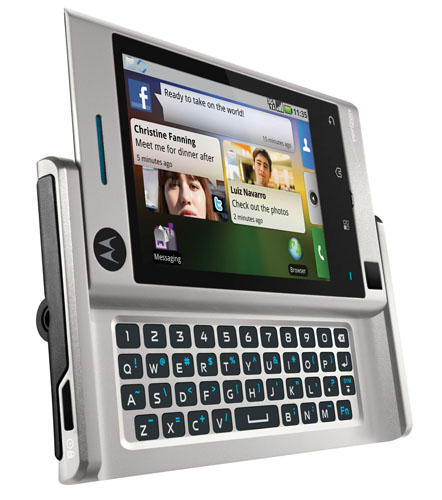 Just like the Motorola Droid - but less
At first glance, the Devour appears to be a scaled-back Droid. But although it's equipped with a Droid-like slide-out QUERTY keyboard - albeit one with a different function-key layout - the new phone's touchscreen display is 3.1 inches, which is smaller than the 3.7-inch Droid. Like Motorola's Cliq Android phone, that 3.1-incher will be a 480x320 HGVA display. The Droid has a 854x480 (16:9) WVGA display.
Also like the Cliq, the Devour will come with the company's Motoblur social-networking software and service, and will be the first Verizon phone to support it - the Cliq is offered by T-Mobile.
Motoblur combines feeds from Facebook, MySpace, and Twitter, and pushes their wall posts and status and photo updates directly into a so-called Happenings Widget on the devices' home screens without the user having to specifically download or access them.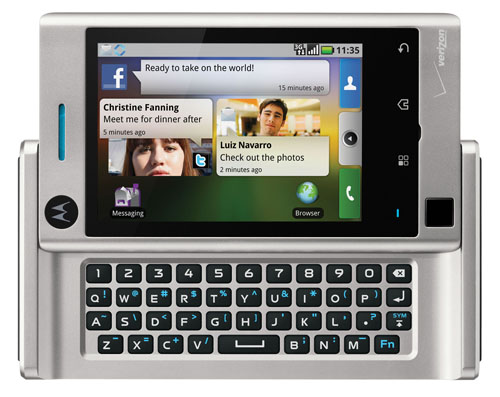 With Motoblur, escape from Web2.0rhea is futile
Motoblur also unifies texts, emails, and messages into a single inbox, and automates backup into - where else? - the cloud. It also provides a GPS-enabled phone finder, complete with remote data-wiping in case you find your phone in the hands of someone with whom you'd rather not share those aforementioned Web2.0rheic wall posts, photos, and tweets.
Unlike the Cliq and the Droid, the Devour's camera will be a three-megapixel shooter with fixed focus, and not the five-megapixel, autofocus unit on its more-capable siblings. Like the Cliq, the Devour is without the Droid's dual-LED flash.
The step backwards from the Droid's Android 2.0 to the Devour's Android 1.6 is a puzzling one. At the Consumer Electronics Show last month, Motorola CEO Sanjay Jha told attendees that both the Cliq and the Droid would be updated to Android 2.1 - and since the Cliq runs Motoblur, it's arguable that a lack of Android 2.0 compatibility for that social-networking feature would not be why the Devour is scheduled to debut with Android 1.6.
A Motorola spokeswoman was unable to immediately respond to our questions as to whether cost considerations were limiting the Devour to Android 1.6, or when Devourers might expect to be fed an upgrade to either Android version 2.0 or 2.1. ®