This article is more than 1 year old
NASA develops spaceship work robot called 'R2'
Definitely the droid we're looking for, say space chiefs
NASA, in partnership with motor globo-mammoth GM, says it has taken a "giant leap in robotic technology", having developed a robot intended to operate alongside humans in space and called - really - R2.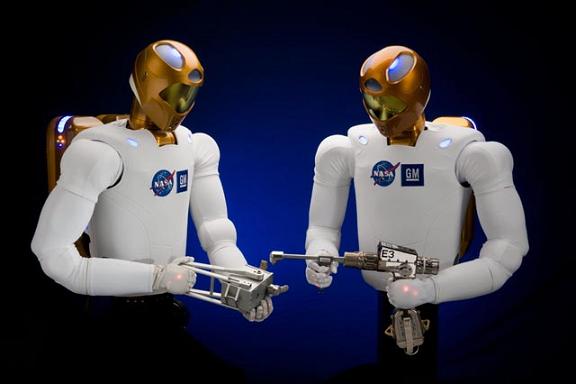 Ha - your obscure widget is no match for my krenon-ray pistol.
As you can see, though, the machine - full name Robonaut 2 - is really more of a C-3PO than an R2-D2, around the torso at least. NASA says it has been made roughly humanoid in configuration so that it can use the same tools as humans, though hopefully it won't drop them into planetary atmospheres as people occasionally do. The work-droid can easily handle 20lb weights in Earth gravity, which is said to be well in excess of what other "dexterous" robots can manage.
"Our challenge today is to build machines that can help humans work and explore in space," said Mike Coats, NASA bigwig. "Working side by side with humans, or going where the risks are too great for people, machines like Robonaut will expand our capability for construction and discovery."
Robonaut 1 was built by NASA in cooperation with Pentagon wildscience division DARPA; the new R2 involved NASA, GM and Oceaneering Space systems - space suit maker to the US astronaut programme.
According to NASA, Robonaut type machines could be especially useful in extra-vehicular activities (EVAs, spacewalks). A lot of time and effort is spent kitting an astronaut or cosmonaut up for one of these excursions, which wouldn't be required with the droid spacewalker. Already, a lot of the work outside the International Space Station and on Shuttle missions is done using the long robotic arms fitted to the spacecraft, in the case of the ISS with a 12-foot-tall "Dextre" robot multitip fitted to the end.
As for GM, the car firm hopes that R2's successors may help get even more humans off its car assembly lines, so cutting down on accidents - and presumably on costs.
"For GM, this is about safer cars and safer plants," said Alan Taub, GM R&D veep. "When it comes to future vehicles, the advancements in controls, sensors and vision technology can be used to develop advanced vehicle safety systems. The partnership's vision is to explore advanced robots working together in harmony with people, building better, higher quality vehicles in a safer, more competitive manufacturing environment."
There's more on Robonaut here. ®