This article is more than 1 year old
Sonos ZonePlayer S5
Sonic boon?
Review US firm Sonos first debuted its first products back in 2006, and it offered just about the best example of a self-contained, multi-zone wireless music system that had yet been seen. It featured an iPod-like hand-held controller and used the company's proprietary wireless technology – rather than Wi-Fi – to connect your PC to a series of amplifiers around your home, which could be connected to the speakers of your choice.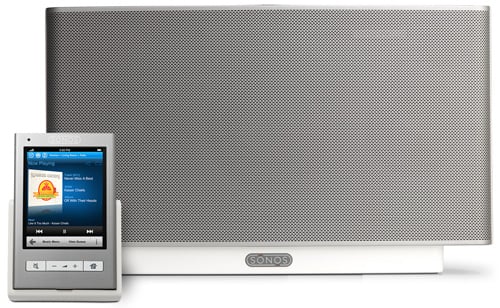 Sound environment: Sonos' ZonePlayer S5 and CR200 controller
Since then the system has continued to improve over the years, with upgrades to the handheld remote control, the addition of various online music services and now, at last, a self-contained amp/speaker unit in the shape of the Sonos S5.
Price has always been a bit of an issue for Sonos – not that it's outrageously expensive, but there are other wireless options available for considerably less. With the S5, there's no need for additional speakers, and if you've an iPhone you can instal a free app so that it can be used as the controller. The alternative is to buy the £275 Sonos CR200 controller, which looks virtually identical onscreen.
If you're using the S5 in the same room as your computer, you can hook it up directly to a LAN port. If you want to use the S5 elsewhere, you'll need a £79 Zonebridge 100 and plug this into your computer or router instead, so that it can link wirelessly to the S5. This unit combined with a single S5 will set you back £429 – around half of what you might have expected to pay for the Sonos BU250 package.
The S5 is a decent-looking unit available in Sonos's trademark white and grey. It's not a style statement like B&W's Zeppelin or Fatman's valve-powered iPod docks, but its clean, unfussy appearance means it should easily disappear into the background. The 217 x 365 x 123mm, 4.15kg cabinet contains five separate drivers: two tweeters, two 3.5in midrange drivers and a single 3.5in subwoofer, each powered by a separate Class D amplifier. Sonos' own DSP (Digital Signal Processing) system takes care of the crossovers.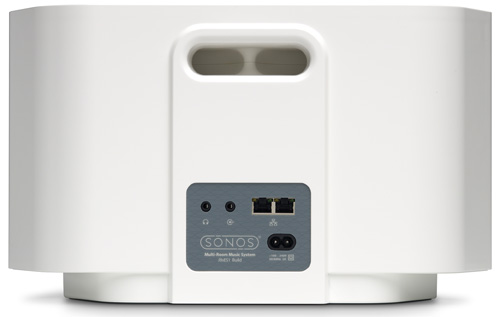 Besides Ethernet, there's interfacing for headphones and external sources
The S5 is not entirely wireless, of course, you'll need to plug it into the mains since there's no battery power option and around the back is a pair of Ethernet plugs, plus a 3.5mm headphone jack and a 3.5mm line in, so you can play an MP3 player through it direct – useful if you have iPod-toting friends round. There's also a handgrip for lifting and on top are volume and mute buttons.