This article is more than 1 year old
Sonos ZonePlayer S5
Sonic boon?
Sonos now supports a broad range of audio formats, including MP3, iTunes Plus, WMA (including purchased Windows Media downloads), AAC (MPEG4), Ogg Vorbis, Audible (format 4), Apple Lossless, Flac (lossless), as well as uncompressed WAV and AIFF files. There's native support for 44.1kHz sample rates as well as additional support for 48kHz, 32kHz, 24kHz, 22kHz, 16kHz, 11kHz, and 8kHz sample rates. However, it won't handle Apple "Fairplay", AAC Enhanced and WMA Lossless formats though Sonos says this may appear later.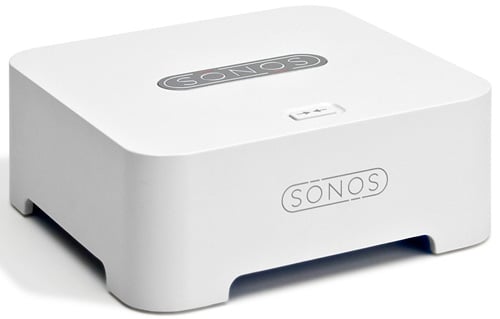 The Zonebridge is, effectively, the wireless access point for this Sonos setup
On-line services include Internet radio access, and music from Last.fm, Deezer and Napster (£5 a month now for 8 million tracks, without the need for a computer) plus audio books from Audible and it's now possible to make Twitter updates through Sonos. The service offers a template tweet namechecking the track you're listening to and you can add your own message about it. There's no Spotify yet, which is beginning to feel a little weird, though we've got our fingers crossed.
Putting all that on-line content aside, the primary purpose of the Sonos system is to stream music from your PC, Mac, or a Nas server around your home, and this it does easily and effectively. You can import playlists from iTunes and, for a price, you can add other S5 units and link them to the Zonebridge and control them all from the iPhone or CR200 enabling different music streams, or the same source around the house at different levels for each room.
We used the iPhone app, which, for the most part, is easy to navigate and use. It's lacking a few of the options available on the computer-based interface, but it's all you need to configure the system and control each of the zones you set up.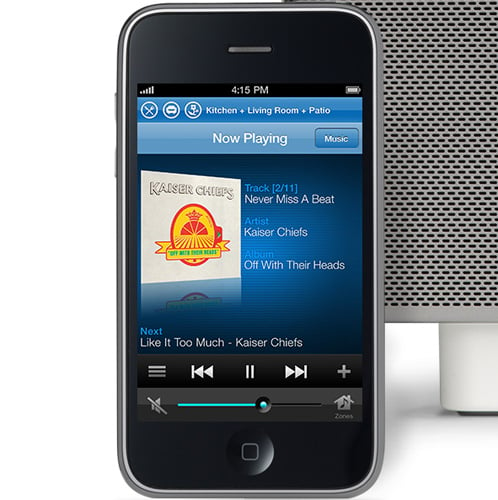 iPhone control for free, assuming you have one
We had a slight problem during installation, which we're getting used to with Sonos. As we've found in the past when setting up a Sonos system, there are issues with firewalls and the software. Indeed, this occasion was no exception. A phone call to the Sonos support team got it sorted though and once we were up and running, playback went smoothly for the most part.