Singer wears 'Twitter dress' to Grammys
Imogen Heap models hi-tech glad rags
A British singer-songwriter was spotted at the US Grammy Awards this week wearing a hi-tech dress that displays Twitter posts.
Solo electro-pop artist and erstwhile Frou Frou vocalist Imogen Heap – her 1998 debut album was called iMegaphone – wore a customised dress to the music industry awards night in Los Angeles that included an oversize neckband connected to her personal Twitter page.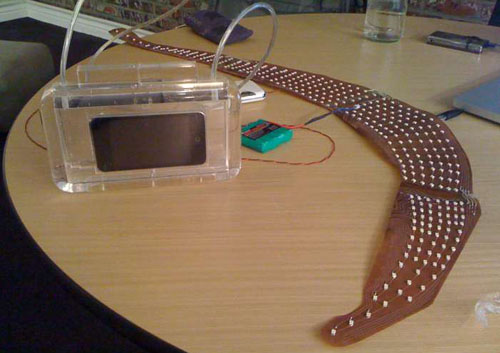 Heap's dress displays tweets on an oversize necklace right
Each time a fan sent her a Tweet, a wireless modem hidden inside the electronic apparel relayed the message to the necklace, which spelled out the worlds out using a matrix of LEDs.
The e-frock was also connected to an iPhone 'handbag', which Heap used to show people pictures that fans had sent her online.
According to reports, Heap dreamed up the dress so that her fans could come with her to the Grammys "embedded with Imogen".
The Twitter dress obviously went down well because Imogen's Ellipse album won a Grammy for best engineered non-classical album. ®