Sony, Vodafone vie for X10 UK launch first
Manufacturer to sell online ahead of operator
Sony Ericsson intends to beat Vodafone to the launch of its first Android-based smartphone, the Xperia X10.
Vodafone has updated its X10 webpage to say that the smartphone is "coming soon", with April named as the specific month.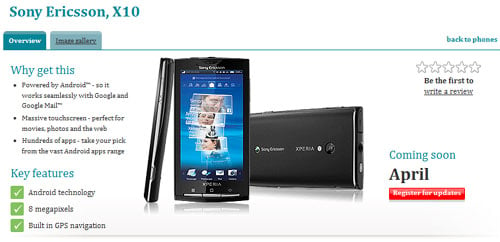 Vodafone will launch the X10 in April
However, staff from Sony Ericsson's online store apparently told website Mobile Today that the manufacturer will release the handset online in the UK on 1 March.
Sony Ericsson will stock the X10 exclusively for the first week of March before releasing the phone through "other channels", the source added.
Can't see the video? Download Flash Player from Adobe.com
The X10 is based on Qualcomm's 1GHz Snapdragon processor and features an 8.1Mp camera with 18x digital zoom. The handset will connect over Wi-Fi and HSDPA 3G. ®