Fujifilm Finepix Real 3D W1
First 3D compact digital camera
Review The world seems to have gone 3D crazy. Crowds are flocking to see the 3D movie Avatar; consumer electronics companies are promising 3DTVs and Blu-ray Disc players, and broadcasters, such as Sky, are set to launch 3DTV services. Fujifilm has also got in on the act with the Finepix Real 3D W1, a camera for the masses that captures that third dimension.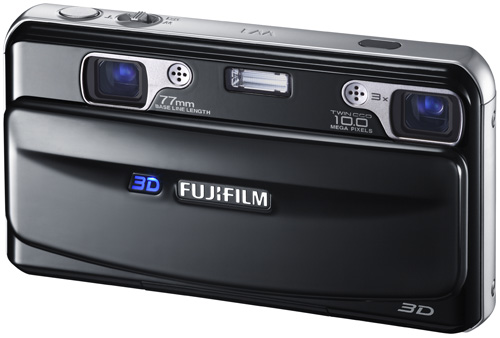 The big picture: Fujifilm's Finepix Real 3D W1
Fujifilm's camera is aimed at anyone with an interest in stereoscopic photography, from the curious novice to the seasoned enthusiast. Compared with most compact cameras on the market, it seems large. Yet to compare this model to a standard digital camera would be a mistake, because the Finepix Real 3D W1 is effectively two digital cameras in a single device.
When you compare its size with stereoscopic systems – which lash two cameras together plus associated synchronisation electronics – then Fujifilm has done a great job in producing a 3D camera that is so compact. The Finepix Real 3D W1 measures 123.6 x 68 x 25.6mm and weighs around 300g with battery and card. It's small enough to carry around in a coat pocket and doesn't feel too heavy.
With the two lenses at the front, the Finepix Real 3D W1 takes two shots of the same scene, in order to create a stereo image file. The lenses are spaced 77mm apart, wider than most 3D camera systems, which tend to place the lenses some 64mm apart, the equivalent distance between our eyes.
Fujifilm has extended this distance in order to enhance the 3D effect. The camera has two 1/2.3-inch CCDs, each offering 10Mp performance. There are also two 3x optical zooms in the form of two f/3.7-4.2 6.3-18.9mm lenses, equivalent to a 35-105mm lens on a 35mm camera.

Two cameras in one, but a single shutter release
The shutter speed range is 1/4 - 1/1000sec, although this is extended to 3 seconds in the Night Tripod mode. ISO range is 100-1600, and the Finepix Real 3D W1 includes 42MB of internal memory and uses SD/SDHC cards. The camera is powered by a lithium-ion battery that notches up a CIPA rating of 230 frames.