Apple may have decided against the appellation 'iTablet' - one of the rumoured names for the product now known as the iPad - but that hasn't stopped UK computer supplier X2 claiming the name for its own.
The iTablet range comprises at least two models: one with a 12in, 1024 x 768 display, the other with a 10.2in screen of the same resolution. Both are based on Intel chips clocked at "up to 1.6GHz with 2GB of cache".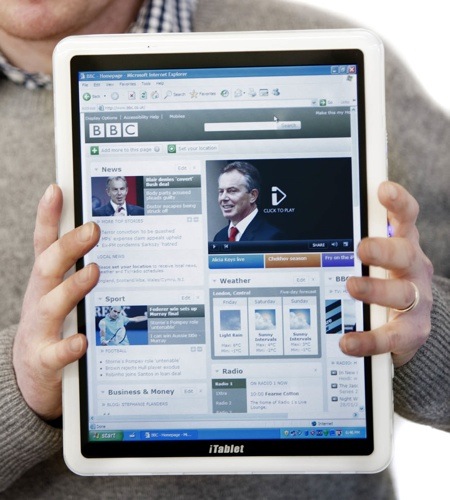 X2's iTablet: has everything the iPad lacks?
Which chip precisely? X2 wouldn't say, but told Reg Hardware that full technical details will be posted in a few weeks' time.
The tablets contain up to 250GB of hard drive storage, three USB 2.0 ports, "optional" HDMI output and - listening, Apple? - a 1.3Mp webcam.
"iTablets are fully equipped with Bluetooth, optional 3G and GSM, as well as built-in 802.11b/g," X2 said.
Size and weight? 252 x 192 x 35mm and 1.18kg, since you ask, so heftier than the Apple alternative.
But the iTablet runs a full-scale, multi-tasking OS: Windows 7.
The iTablet line will go on sale in April, X2 said, and be available in a range of solid and metallic colours including white, grey, pink, blue, red, yellow and black. X2 is keeping mum about the pricing. ®