This article is more than 1 year old
El Reg reader assembles own iPad
Click here for an iFul of low-cost DIY project
The fanbois out there whose lives have become a meaningless succession of days to be crossed off the calendar until the release of Apple's paradigm-busting iPad will be delighted to learn that they can fill the void by assembling their very own future of computing.
And here's the proof, courtesy of visibly-fulfilled reader Craig Johnston: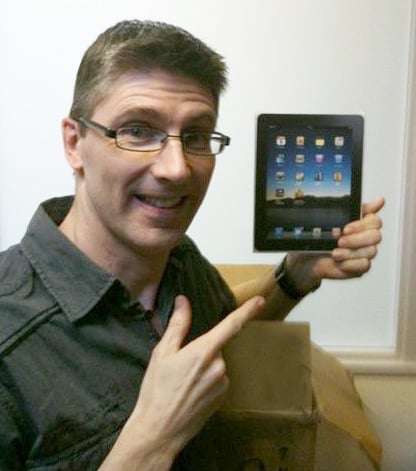 The low-cost DIY iPad comes as two PNG files, created by Jess Silverstone of Revolutionary Concepts, and available down at Mac Rumors. The site explains that each face of the iPad "can fit on standard A4 (8.3 x 11.7 inches) paper, but your printer has to be capable of borderless printing to achieve close to actual iPad dimensions".
Revolutionary Concepts notes that the "ipaperpad" is not simply a stop-gap piece of gratification for worshippers at the altar of Jobs, but that the six it's glued together to date are "actually helping us with the scale of graphics and UI placement for our upcoming iPad apps". ®