Review Intel launched its latest generation of netbook-centric Atom processors right at the end of 2009. While the following weeks saw plenty of announcements heralding new machines based on the chips, those PCs have only now started to arrive on shop shelves.
Asus is, of course, the genuine pioneer of the netbook arena, launching the very first machine in this class back in late 2007 - the Eee PC 701. Two and a bit years on, we have here the latest model: the 1005PE.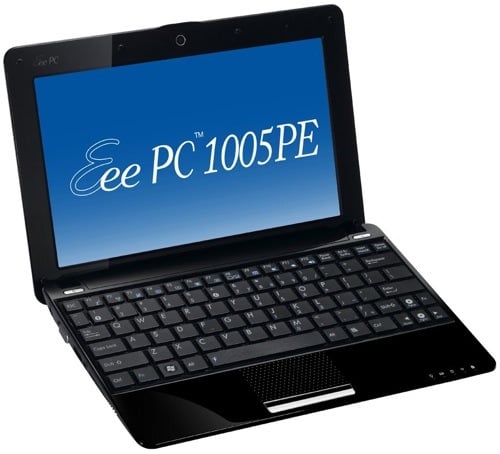 Asus' Eee PC 1005PE: old netbook, new CPU
It's essentially a revision of the 1005HA machine Asus launched in the summer of 2009 as the second netbook in its curvy Seashell series. The 1005HE followed the slimline 1008HA, losing the latter's slimline, integrated lithium-polymer battery in favour of a more geek-friendly but bulky removable battery.
Give or take a few aesthetic tweaks, the 1005PE's body matches that of the 1005HA. While it tapers sleekly to a thin front edge, the netbook's keyboard section has a chunky rear end, almost entirely due to the six-cell 4400mAh battery that clips into a space at the back. While it's flush with the back of the netbook, the battery bulges out below it, forcing Asus to fit the 1005PE with a set of longer-than-usual feet so that the base doesn't rest on the battery.
The 1005PE isn't inherently unattractive, but it lacks the MacBook Air-like appeal of the 1008HA. And it's one of the more chubby netbooks we've seen of late, a fact that the tapering front exaggerates rather than plays down. You might think that that's just the price you pay for a removable battery, but other netbook vendors - hello, Toshiba - have done a better job at integrating long-life power packs without fattening up their machines.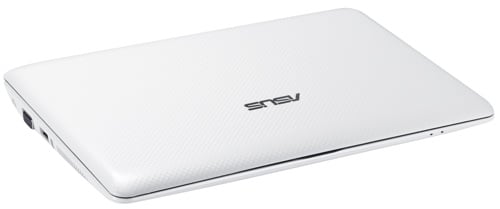 Not as slim a rear as the official pics suggest
Around the sides are all the usual netbook ports - three USB 2.0, 10/100Mb/s Ethernet, VGA, SD card, analogue audio - so no surprises there. Not so the sound system, which is capable of very loud yet distortion free output. The 1005PE has very impressive audio for a netbook.