Running a given app can trigger the change, Nvidia said, or it can be done on a moment by moment basis. Photoshop, for example, can trigger the use of the GPU if a filter requires it. Again, it's Windows 7's graphics foundation code, rather than Nvidia technology, that makes this possible. So users won't need Optimus-specific versions of their favourite apps.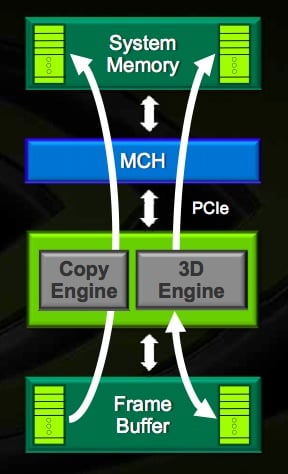 GPU-rendered imagery is fed into the IGP's frame buffer via the PCIe bus
There's another benefit too: better battery life. Past dual-GPU solutions never entirely disabled the discrete GPU when it wasn't being used. Nvidia has made much of its mobile chips' power conservation abilities, but it's had to admit these really only help when the GPU is operating. If the chip is idle, it's still consuming a fair bit of power.
But not in the Optimus scheme of things. When that extra rendering ability isn't required, Nvidia powers the GPU right down to zero so there's not even any leakage current. Powering up again takes a small but finite time, but not enough to interrupt the experience.
The result, though, is a battery life extension. For ordinary tasks, that amounts to a gain of two hours, Nvidia claims. Clearly, running any app that thrashes the GPU is going to mean that an Optimus system's GPU will engages frequently, so there's going to be no overall benefit then - and you'll be likely running on mains, in any case. But if the GPU is required only occasionally, simply the ability to switch it off will generate a big power saving.
Of course, if you never run the kind of software that prefers a GPU to an IGP, then there's no benefit either, though Optimus does mean you can happily rely on your IGP safe in the knowledge that the GPU is not only there should you need to call upon it, but that it's not eating into your battery life in the meantime.

Optimus vs solo IGP, according to Nvidia
A word of caution, though: Nvidia is charging laptop makers more for its Optimus-enabled chippery and software than it does for regular GPUs. It argues that since vendors now no longer need to fit a mux chip, and so they can use the same motherboard for IGP only laptops as IGP+GPU kit, Optimus shouldn't cost the consumer an old-style dual-GPU machine.