Maybe not, but anyone who's stuck with IGP-only equipment thus far will find themselves paying extra, if only for that second GPU.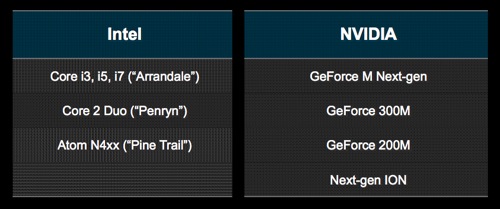 Supported platforms: what Optimus will run on
Right now, Nvidia's focus is on Intel-made IGPs, specifically those in the 'Arrandale' Core i3, i5 and i7 processors; the 'Pine Trail' Atom N4xx netbook CPUs; and the integrated chipsets connected to old 'Penryn' Core 2 Duo chips.
On Nvidia's side, Optimus will be a part of special versions of the GeForce 200M and 300M series, along with the upcoming GeForce M parts and second-gen Ion platform.
Indeed, expect Nvidia to make a big play out of bringing better graphics to netbooks without losing the power-preservation benefits of the IGP.
But, says Haas, Optimus will be coming to all notebook categories this year. While only Asus is launching Optimus machines right away, Haas claims more than 50 Optimus-equipped notebooks will be shipping by the summer.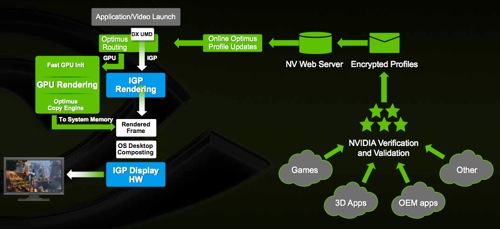 Keeping Optimus' profiles up to date
Optimus' GPU management utility will be kept up to date with new software releases through a push mechanism that pushed out the IGP/GPU requirements of new programs over the internet to each connected Optimus machine.
Reg Hardware will be reviewing Optimus shortly. ®