Battlefield skyhook robocopter 'passes US Marines' test'
Intermesh droidchopper can deliver supplies hands-off
---
The deadline for makers to bring forward unmanned skyhook robocopters - intended to move battlefield supplies in Afghanistan as soon as this year - is upon us, and one team at least is claiming a successful demonstration.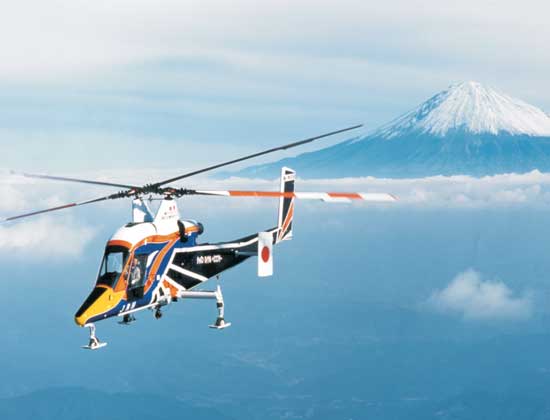 Now available without that heavy, expensive, moaning pilot
US defence colossus Lockheed, teamed with intermesh-rotor whirlybird maker Kaman, say that their droid chopper has managed to pass the tests set out for it by the US Marines under their "IMMEDIATE CARGO UNMANNED AERIAL SYSTEM" project.
The Marines' requirements were for an unmanned, VTOL aircraft able to hover with underslung loads at high altitudes - essential in the Hindu Kush - and demonstrate the potential to shift ten tons of supplies per aircraft across 150 miles in 24 hours (in as many trips as required).
Lockheed and Kaman say that their unmanned K-MAX chopper has ticked the boxes in trial flights at the Dugway Proving Ground in Utah. They say the crewless K-MAX moved 3,000 pounds using two 150-nautical-mile round trip flights and "well within the required 6-hour timeframe".
That would seem to add up to 12,000lb of stuff over 24 hours, not ten tons (20,000lb). Perhaps the Marines have relaxed their requirements, or perhaps "well within 6 hours" means "less than 4 hours" - though that last seems unlikely for a helicopter covering 600 nautical miles.
However you look at the figures, though, this could be a significant new thing - because the unmanned K-MAX was able to do its thing pretty much entirely hands-off.
"The system performed a rigorous set of cargo resupply scenarios as programmed, allowing the ground-based operator to monitor progress, and make adjustments to aircraft positioning only when requested by the Marine Corps for demonstration purposes," according to Lockheed's Dan Spoor.
The robochopper remained in touch with its ground station using both line-of-sight comms and satellite relay, and the ability to upload a new flight plan in the air was demonstrated. The K-MAX team also showed off a nifty "four-hook carousel", which lets the droidcopter make multiple dropoffs in a single flight:
As an optional demonstration, Team K-MAX showcased the Unmanned K-MAX helicopter's four-hook carousel, which enables multi-load deliveries in a single flight. Lifting a total cargo of 3,450 pounds, the aircraft flew to three pre-programmed delivery coordinates, autonomously releasing a sling load at each location. At the customer's request, the fourth load delivery was performed under manual control by the ground operator.
This sort of capability really could be good news in Afghanistan, where supplies need to go by helicopter as much as possible, and sometimes have to be rushed in urgently to forward bases which are under fire at the time. The need to keep air crews within their allowed operating hours, and the need to lift them and their associated things - armour protection for instance - makes manned helicopters very expensive and eats into their lifting ability.
In Afghanistan at least, once you factor in casualties, terrible roads, wrecked and destroyed vehicles etc, unmanned robocopter lift could even work out cheaper in money - as well as lives - than using ground convoys. It cost the Marines just $860,000 to Kaman for this demonstration, peanuts in terms of military/aerospace projects.
The other still-standing contender for the immediate air cargo plan is Boeing's A160T variable-speed robo whispercopter. However the Marines want to move fast with this, and it was stated last year that Februrary would be the deadline to show a working system. If the A160T doesn't make a demo soon, it may be left at the post. ®