This article is more than 1 year old
Samsung Omnia Pro
For business and pleasure?
Review Samsung clearly has high hopes for its latest round of Windows Mobile-powered Omnia smartphones. The Omnia II was a significant improvement over last year's original, due in no small part to Windows Mobile 6.5, which offers a big leap in usability over previous editions of WinMo. The Omnia Pro maintains a high level of functionality, with an eye on business customers.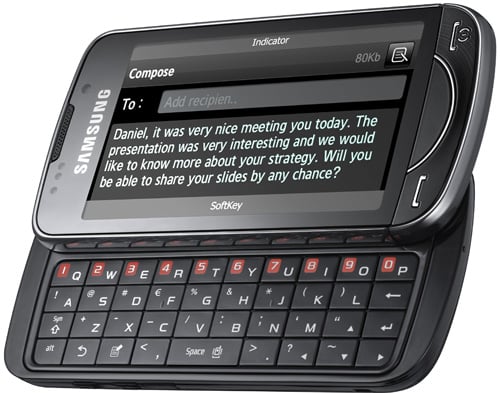 Split personality: Samsung's Omnia Pro
With a 5Mp camera, HSDPA 3G, Wi-Fi, A-GPS and Samsung's TouchWiz interface, the Omnia Pro also features a slide-out Qwerty keyboard and an alternative interface. At 113 x 58 x 17mm and 165g, the Omnia Pro is considerably chunkier than the Omnia II, which measured up at 118 x 60 x 12 and 129g. The Pro's additional girth and weight is offset a little by reduced length and width, making it not seem like quite the brick it might have been.
The screen has shrunk a little from 3.7in to 3.5in and beneath it are call start and stop buttons flanking an outsize menu button that forms the shape of a smile – this is meant to be the fun face of business. Above it are a VGA camera for video calls and a light sensor, while round the sides are screen lock and camera shutter buttons, a volume rocker and a button labelled 'W&L'.
This button allows you to flip between 'Work' and 'Life' modes, so you can set up different profiles to suit your moods and interests depending on whether you're enduring the daily grind or ready for fun. At the top there's a micro USB power/sync socket and a 3.5mm headphone socket, both of which are covered by plastic grommets. At the back is the camera lens, slightly inset into the casing, with dual LED flash.
The display is a 3.5in AMOLED LCD model offering 480 x 800-pixel resolution and 16 million colours. It's pin-sharp, clear and distinct, but it's let down a little by being resistive rather than capacitive, so it's not as sensitive as it might have been. Indeed, there are times, particularly towards the edges, when you'll need more than one press to make your presence felt.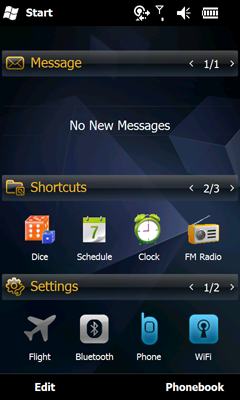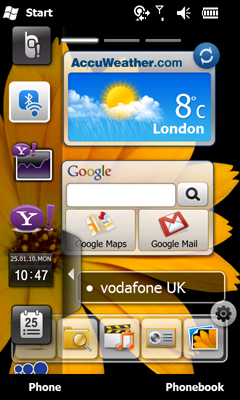 Two faced: Work and Life menus
Our concerns were further raised by the inclusion of a stylus in a slot at the side – metal, telescopic, since you ask – something that's fast becoming an endangered species as manufacturers move steadily towards finger-friendly interfaces. Thankfully, there wasn't much need for it, as both Windows 6.5 and Samsung's neatly integrated TouchWiz interface, with its selection of onscreen widgets, feature good-sized, thumb-friendly controls.