This article is more than 1 year old
Samsung Omnia Pro
For business and pleasure?
As with the Omnia II, the Windows OS and Samsung UI have blended well, with the widgets acting as quick-access alternatives to the scrolling icons of the Start menu. Some offer instant use – AccuWeather gives you a heads-up display of the current clime, while Google features an always-ready search bar.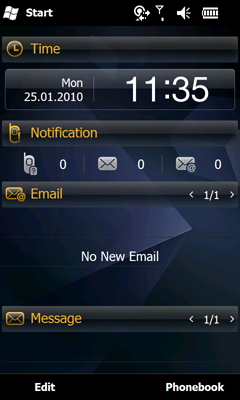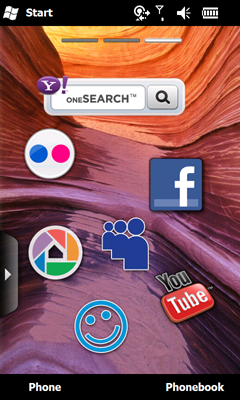 More of the Work-Life balance
However, it was disappointing that the Facebook widget is only really a link to the website, and doesn't offer up-to-the-minute updates on your home page. Same with the YouTube widget – just a link, with no additional functionality. You can at least download the Facebook app from Windows Marketplace, and add it to your shortcuts menu, but it's not so intuitive.
Of the two lifestyle modes accessed by the W&L button on the side, Life is the one we're already familiar with – three screens which can be populated with a succession of widgets, both from the supplied list and new downloads, though you still can't double them up on different screens. 'Work' mode is a completely different option however, with a more sober, linear layout, though you can still organise the hierarchy of your widgets by moving them up or down the screen.
The screen slides to the right with a smooth, not clunky action, to reveal four lines with 39 keys in all. At first sight they look flush, but each is very subtly raised in the middle, making them a little easier to find under the thumbs. There are shortcuts for writing programmes (a key brings up a choice of message, email, calendar, note or search) and your contacts book. It's easier and more satisfying to use than Nokia's recent N97 mini, though it lags a little behind HTC's Touch Pro for usability and typing speed.
The browser is standard WinMo 6.5 with a choice of Opera or Internet Explorer. We find Opera faster and easier to work with as a rule – you can double tap or press, hold and slide to zoom, there's support for Flash video, as well as word search and a pop-up blocker. Internet access is fast using the HSDPA 3G network link (3.6Mbps max though) or broadband over Wi-Fi. Pages generally rendered speedily and well, and while there's some occasional lag when opening applications, but we didn't notice anything severe – the 800MHz processor seems to be up to the job.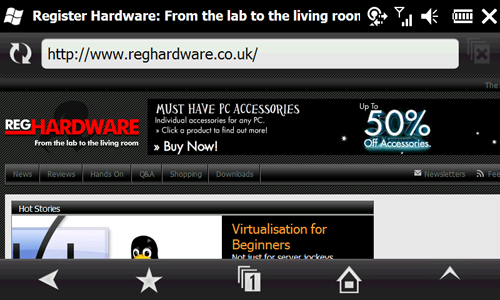 Both Opera and Internet Explorer browsers are on-board
Email is easy to set up, with address and password being enough in most cases. There's easy synching with Outlook of course, and Microsoft Exchange for corporate email accounts too. Call quality through the phone's loudspeaker was generally good, with no obvious tendency to harshness or tinny voice reproduction.