This article is more than 1 year old
Samsung Omnia Pro
For business and pleasure?
The photo gallery offers a nice option too. You can double tap to zoom in on the place you've tapped, and turn the phone on its side for the accelerometer to flip you into landscape mode and display your pics in a cascading arc.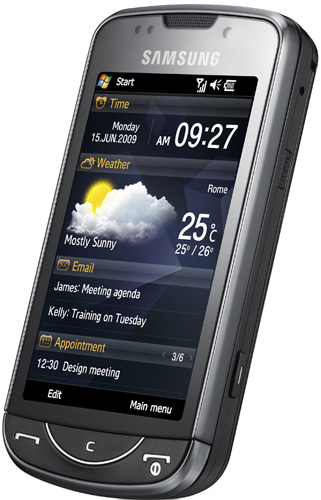 The touchscreen easily handles more general tasks
Though it's clearly intended as a business-centric alternative to its Omnia II cousin, the Pro is no slouch as a media handset. The AMOLED screen throws up deliciously sharp, crisp images and as well as the usual MPEG4, WMV and H.263 formats it can also handle Real One, DivX and XviD files.
The music player offers a selection of digital sound enhancements, including Samsung's Wow HD (which just seems to make everything louder) and DNSe (Digital Natural Sound engine) which includes an equaliser with 12 settings which are a bit of a movable feast – 'Jazz' made Kind Of Blue sound ridiculously cramped for instance, but at least they all seem to do something, which isn't always the case. It can play the usual format suspects of WMA, MP3, AAC/AAC+/eAAC+ but also hi-fi fave Ogg Vorbis files.
Sound through the supplied headphones with their noise-isolating grommets isn't bad, but it's easy enough to upgrade thanks to the 3.5mm jack plug and the presence of A2DP stereo Bluetooth. There's also an FM radio with RDS, auto scanning and half a dozen preset channels.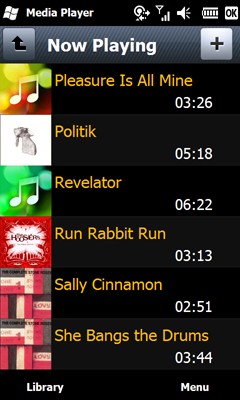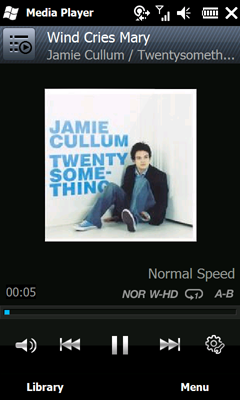 Music menu and player
There's 1GB of memory on board, which offers no more than a decent start, though you can add up to 32GB more via micro SD card – none supplied though. Microsoft Office mobile apps are all present and correct, allowing you to create and edit Word and Excel documents as well as view PowerPoint docs and there's also Adobe Reader for viewing PDFs.
Battery life held up fairly well on the Omnia Pro, giving us a little over a day and a half of fairly heavy use, including Wi-Fi, web browsing, music playing, video viewing, and even a few phone calls.
Verdict
The business version of the Omnia II offers a slide-out Qwerty keyboard and a mode option that allows you to switch between sensible-looking, carefully arranged widgets and the more anarchic multi-page, anything goes look of standard Samsung TouchWiz. Those points aside, it's a very decent media-centric smartphone that scores on messaging, browsing, viewing media (including Office files) and taking pictures too. As a business handset, it beats the iPhone for versatility, and only really has a serious rival in HTC's Touch Pro. ®
More Qwerty Smartphone Reviews...

Nokia
N900

Motorola
Milestone

RIM BlackBerry
Bold 9700

Palm
Pre

Samsung Omnia Pro
A versatile business-centric handset with a lifestyle mobile alter ego.