MTV Mexico pulls South Park episode
Unauthorised flag-waving prompts auto-censorship
---
MTV in Mexico pulled an episode of South Park on Monday night because it didn't have the necessary government permission to show the Mexican flag featured in the cartoon.
According to the BBC, 'Pinewood Derby' provoked "keen interest" south of the border when it aired in the US in 2009. The episode has a Mexican president, bearing "a striking resemblance" to current prez Felipe Calderon, shown as "a leader who wastes funds and irritates the international community".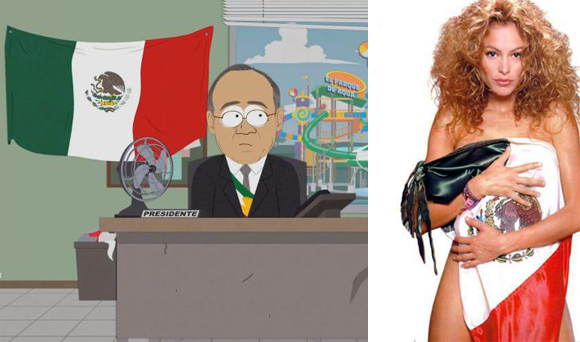 The problem is that Mexico frowns heavily on unauthorised media use of its flag. Popstress Paulina Rubio copped a fine in 2008 when she appeared nude in Spanish Cosmopolitan with just the flag to cover her modesty (see above).
MTV Mexico spokesman Erick Zermeno explained that the channel had decided to can the episode altogether, rather than attempting to obscure the offending flag. He said: "We decided not to alter the image because the reaction would have been worse."
Mexican MTV viewers will enjoy 'Pinewood Derby' when the official authorisation arrives, Zermeno insisted. ®