This article is more than 1 year old
Opera beta burns Chrome for top spot
Gets Porn Mode, too
Opera unleashed a beta version of its browser this morning, and 10.5 claims the lead over Google Chrome and Apple's Safari in the Javascript stakes. The speed improvement is down to a new Carakan ECMAScript engine.
The Rolls Royce of browsers has long been the innovation lab for the rest of the industry, with rivals touting features first seen on Opera as their own "inventions" years later. It's maintained an emphasis on usability (with extreme customisation made easy) and performance - without getting bloated along the way. But Opera has lagged rivals in scripting performance, and this has become increasingly important as complex web applications, such as Google Docs, become more widely used.
A pre-Alpha circulated before Xmas. Some sites testing this gave Opera almost a half second advantage of the current leader, Google's Chrome.
It's around 2.5 times faster than Opera 10.2, or seven times faster than the current 10.1 release. The major change in Carakan is a move from a stack to a register based architecture. Carakan will also compile scripts down into native code. (For a detailed and interesting overview of the scripting engine see Jen Lindstrom's blog post.)
In two other areas, Opera has held an embarrassing large historical lead over its main rivals and laggards, Firefox and IE: memory footprint and caching. In 10.5 the caching engine has been rewritten, with opera:cache giving a new and very detailed browsable view of the cache.
A whole heap of non-functioning niceties are missing, but this is a beta.
Colour me in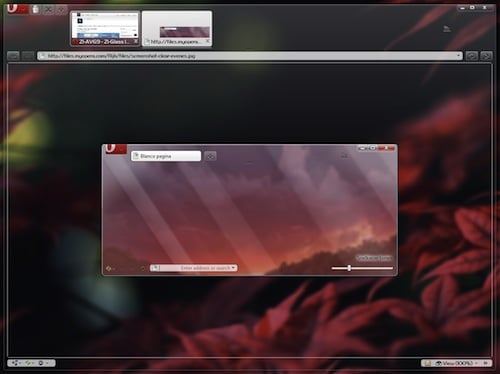 10.5 alpha with a translucent skin
Opera 10.5 also sees big changes with GUIs. The Windows version gains a spooky new translucent Glass look in Vista and Windows 7. It's more deeply integrated into the UI, so hovering the mouse over the Opera icon on the taskbar brings up previews for each page.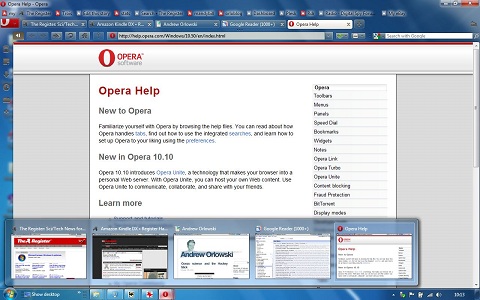 The Windows taskbar now shows page previews [click to enlarge]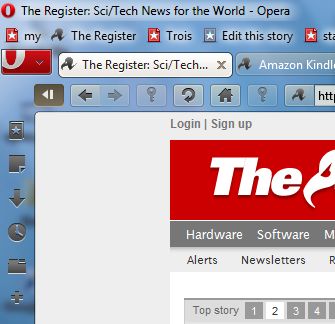 Using a transparent theme doesn't make it easier to use
For Mac users, 10.5 will go Cocoa. Not all the features are yet available for Mac testers, but it already looks a little more native.
Because 10.5 dispenses with the Qt toolkit, it won't require a faff around grabbing the libraries - which can happen. It will use Gtk where Gnome is the desktop. The pulsating, ever-growing brain that's used to be KDE isn't yet supported. Mac and Linux milestones will lag behind the Opera version, the company says, to get new features tested on Windows first.
The other major feature is Porn Mode, here called a "Private Tab" or "Private Window". Wipe your feet on the way out. ®
* You can spend weeks downloading conflicting Firefox add-ons, or a few minutes at this chap's blog, to appreciate the many ways in which you can bend Opera to your will. Well worth a look if you're on a Netbook or still on a 1024x768 display - where every pixel counts.