Social tinnitus Google Buzz hasn't just upset social web mavens, it's also alarmed US actress and sometime Vampire Slayer Felicia Day too.
The flame-haired tellybox star unwittingly found herself trapped deep inside the Gmail Buzz vortex yesterday. But after a quick look around she turned off Mountain View Chocolate Factory's creepy social networking service in her account.
"Buzz things turn up as a message in your inbox?! Disabling now. Heart attack," she tweeted, oops, buzzed.
Very quickly, Day's followers responded with a slurry of messages from fans eager to help the distressed teevee star.
"Can u disable it?," wondered Buffy lover Michael Jones.
"It is scary but at least I get to see more Felicia Day posts. They get buried in Twitter sometimes," he noted.
By that point, however, it seems Day had already ditched Buzz, but that didn't stop people posting to the feed for the best part of Thursday.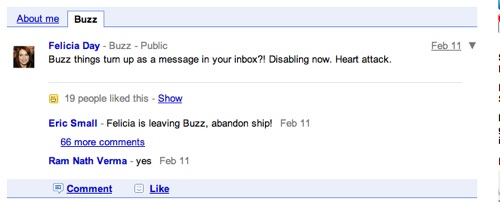 Battling the undead
So well done, Google. You've actually introduced a spanking new sleb stalking tool that might be even more effective than the extremely self-aware Twitter tombola that plebs regularly shake to see what falls out.
Yesterday, news of the death of British fashion designer Alexander McQueen led to Twitter quickly taking down his account, presumably before it was besieged by fans, hacks and perhaps even a friend or two.
But Google's Buzz, which the company automatically applied in a stealth-like strategy to millions of Gmail accounts earlier this week, seems to have upped the non-privacy ante.
Harvesting online data has never felt so dirty. ®