This article is more than 1 year old
Wreck of 1930s flying aircraft carrier dubbed 'historic'
Captain Scarlet style dirigible Cloudbase honoured
The US government has added the crash site of the most powerful flying aircraft carrier ever built to the National Register of Historic Places, 75 years after the event.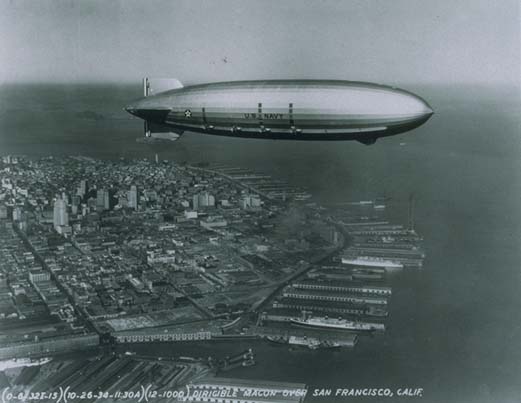 Fleet Week really meant something back then
The airship USS Macon - comparable in size to the even more famous and equally doomed liner Titanic - suffered storm damage and crashed into the ocean off Point Sur, south of San Francisco, exactly 75 years ago yesterday. The huge dirigible's remains and those of her embarked biplane fighters now lie 1500 feet below the waves in the Monterey Bay National Marine Sanctuary. However, all but two of the 83 men aboard survived the crash and were rescued by responding waterborne ships.
"The USS Macon and its associated Sparrowhawk biplanes are not only historically significant to our nation's history, but have unique ties to our local communities, where public museums highlight the airship's history," said Paul Michel, Monterey Bay National Marine Sanctuary superintendent. "The National Register listing highlights the importance of protecting the wreck site and its artifacts for further understanding our past."
The Macon and her sister ship Akron - also lost in a storm at sea two years previously - were unique even in the era of the great rigid airships in that they carried a force of fighter planes which could be launched and recovered in mid-air. A "trapeze" arm attached to a "skyhook" on the biplanes' upper wings swung the fighters out through a T-shaped door in the ship's belly. The airship was fast enough that the planes could match speeds with it in order to hook onto the trapeze again after a flight: there was no need for catapult launch, heavy arrester gear and jolting landings (or alternatively vertical-lift aircraft) as there is with ordinary seaborne aircraft carriers.