Wreck of 1930s flying aircraft carrier dubbed 'historic'
Captain Scarlet style dirigible Cloudbase honoured
Disaster off Point Sur
Opinion on the carrier airships' value was still divided when the Macon unmoored at Moffett for her last cruise on February 11, 1935. Earlier damage to her tail fin was still awaiting repair, but such was the pressure for the big ship to prove her value that this was postponed.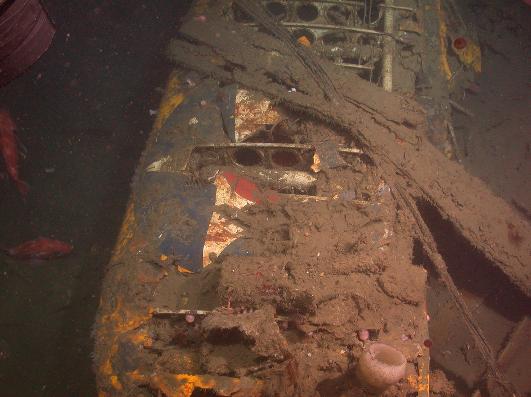 A Sparrowhawk wing photographed underwater at the crash site.
The next day, returning to base, the ship was hit by a storm off Point Sur. Violent crosswinds tore off the previously damaged dorsal fin, causing puctures to the aft gas cells. The tail dropped towards the ocean, and the Macon's captain ordered ballast, fuel and unessential items jettisoned.
The tail didn't strike, but the ship then surged up out of control to 5,000 feet before beginning her last descent. The impact with the sea was relatively gentle, and almost all the crew were able to abandon ship in good order with rafts and lifejackets.
The wreck of the Macon, the Akron before her and the non-carrier ship Shenandoah previously left the USA with just one rigid airship in service. Britain had previously abandoned such ships following the R101 disaster in 1930, and the US now followed suit - though the US Navy continued to operated non-rigid blimps with success through World War II and beyond. Germany stayed the course for a while, but just two years after the wreck of the Macon the Hindenburg went down in flames while landing at Lakehurst, and the day of the mighty rigid airships was over.
Not quite over, perhaps. Apart from ordinary blimps like the Goodyear ones there are still a few airships flying with a rigid structure in their gas envelopes - namely the Zeppelin "Neue Technologie" (NT) ships produced Luftschifftechnik GmbH of Friedrichshafen in Germany, the successor to Count von Zeppelin's original venture. The NT zepps, while nowhere near the size of their illustrious predecessors, have a partial internal structure of glass-reinforced plastic and aramid. This offers better stiffness and links the propulsion, steering and gondola together, making the NTs technically semi-rigids.
Eureka, an NT Zeppelin, is based at Moffett field offering tourist flights. NASA Ames boffins chartered her last year to look for "extremophile" alien-like life forms in the San Francisco area. ®