If you only read one story about British radio this year, make sure it's this one.
Grant Goddard has surveyed the ruins of the landscape and come up with some pithy conclusions. It's an even-handed piece, but spares nothing in vanity of a sector - public and private - that thought technology (through DAB) could substitute for innovative programming.
His reflections are prompted by a lack of growth in listenership of digital-only stations.
For its part, the declining commercial sector has done anything except make great radio:
Commercial radio has talked the digital talk for years about striving to make DAB a successful platform, vaguely promising new digital radio 'content' that it has still not delivered. Instead, it has spent the last few years cutting costs, consolidating, lobbying the government, complaining about the BBC, closing its digital stations and contracting out its DAB capacity to marginalised broadcasters (religious, ethnic, government-funded and listener-supported stations) that will never attract mainstream audiences to the platform (and whose listening is not even measured in the RAJAR audience survey).
He notes that we've seen commercial stations such as as OneWord, TheJazz, Core, Capital Life and Virgin Radio Groove disappear, to be replaced by, um... Traffic Radio, Premier Christian Radio and British Forces Broadcasting Service.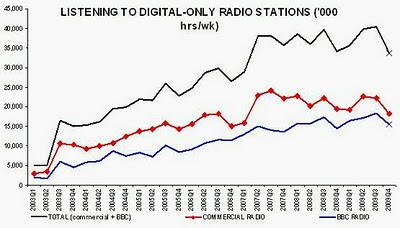 While DAB listening has grown, it's thanks to traditional stations like Classic FM and Radio 2, not new unique DAB only content.
The BBC has been the beneficiary of the introduction of DAB, increasing its share against commercial. But the Beeb's digital-only stations are under review.
The Asian Network costs £12.1m a year, but the national peak audience is only 31,000 adults - lower than when it launched seven years ago - 11 times the cost of Radio 1. It might be cheaper to email each listener the five hours of shows they enjoy, writes Grant.
A more serious problem for the BBC is a mirror image of commercial radio's creative negligence. The BBC has simply lost the knack of creating popular new stations: the ability "to successfully execute the launch of genuinely creative, innovative radio channels that connect with listeners (GLR, the 'new' Radio 1, the original Radio 5)" has deserted it.
That's a long term problem. Anyone who's been within earshot of a BBC radio exec in the last ten years know they're obsessed with platforms, platforms and more platforms... not the stuff that goes out over them. Unless it's swearing.
The most popular DAB-only station is one that was given the death sentence, then saved by its listeners and fans: Planet Rock. That's a sign people want distinctive programming.
DAB isn't going away, but a future government may eventually find a more profitable use for the valuable spectrum, looking to 4G to deliver niche content. Perhaps. We all know IP isn't quite there as a multicast technology, even though the IPv6 capability has been built into routers for years, and LTE will be IPv6. And streaming IP brings its own high distribution costs.
DAB has always had the potential to offer inventive and useful extras - some of which were described by Tony Moretta of DRDB here - and these are quite unique to the medium. But we're still waiting for many of these. Yet the cost to the public of chucking out the FM sets is £3.6bn, according to UTV chief executive Scott Taunton - and the cost of running dual FM/DAB operations is astronomical.
Radio is in the unhappy position where all the digital solutions cost money, and there's no quick fix. And whether DAB or LTE emerges as the most popular choice of a 'multiplatform' future, FM will still provide dirt cheap devices and easy access to the airwaves - a win for broadcaster and listener.
Who'd want to get rid of that? ®
Bootnote
You're probably wondering about Taunton's maths - as we were. He reckons 180 million analogue radios need to be replaced at £20 a pop.