This article is more than 1 year old
Cloud Engines Pogoplug 2
Build your own online file store
With the Pogoplug networked, connected to a drive or two and powered up, you need to pop over to My.Pogoplug.com to complete the set-up. You'll need to create an account, but it's free and, since you'd need to set up an admin username and password in any case, no great chore.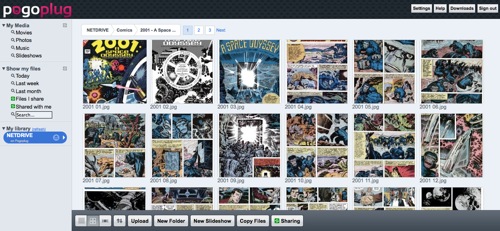 Access your drive's contents through the web
Logged in, you're presented with each drive's contents and the option to tweak the settings. As web-based content display UIs go, Pogoplug's isn't bad. You have a reasonable choice of file list views, and manufacturer Cloud Engines has included filters to list files by media type and by timeframe: today, last week, last month and so on.
You can rename, delete, download or share any file by click an icon from a set that pop up when you run the cursor over any file icon. That's all well and good, but for many people it's no substitute for their OS' own file management tool. Cloud Engine has thought of that, and you can download - again, for free - apps for Windows, Mac OS X and Linux that will mount the Pogoplug's drives on the desktop.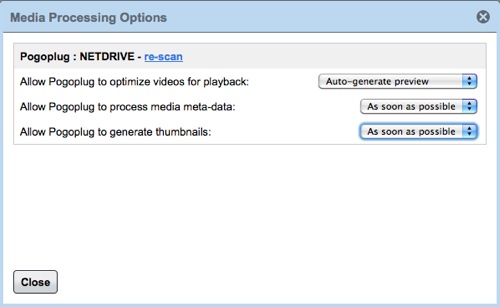 Videos can be auto-transcoded for streaming...
The same software also features some further settings, but doesn't duplicate the ones on the web UI, so you'll need to use both at least once. The segmentation of controls is logical - the app has file-transfer settings, while the web page focuses more on sharing - but I'd like both tools to offer all the options.
The app is the home for Active Copy, Pogoplugs automatic, in the background media copy tool. It's pre-set for Pictures, Music and Movies files, but you can add specific folders to duplicate. It's not too clever, though, limiting itself, say, to photos in your Pictures folder but not images you've filed elsewhere. You can set it to operate only when you're computer is back on your network.

...but it can take some time
Back in the web UI, you can mark files and folders for sharing, and for sending out update messages to social networks and as RSS feeds. Sharees can be granted file rename and delete rights as well as the view and download rights everyone gets. Sharing essentially sends them a URL that calls up a settings-less web browser view of the shared folder's contents.