This article is more than 1 year old
Cloud Engines Pogoplug 2
Build your own online file store
Even if you don't use the web UI, you get to access your drives without having to worry about IP address changes. The test unit was on a router that gets turned off every night - so there's no guarantee it'll get the same IP address every time it's turned on - and the device itself took a DHCP-provided IP address. As each address changed, I was still able to access the drives.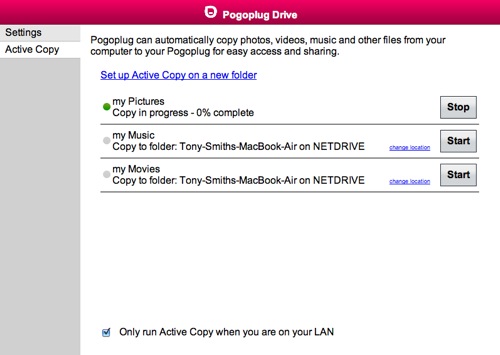 Active Copy auto-duplicates computer-stored files on the Pogoplug drive
The Pogoplug will stream video, though it needs to transcode everything - it'll do this itself, albeit slowly - to H.264 so that web-connected watchers can watch through Flash. Transcoding creates a second video file, but it's kept hidden so you can't bin the original to save storage space. It's also not very bright: it insisted on converting my sample H.264 .MP4 file even though it surely didn't need to. But you can disable it.
Performance depends overwhelming on the type of drive you connect and the path to the computer you're viewing the contents on. Here, it's connected to the router over a Powerline Ethernet link then over 802.11n to a MacBook Air. The drive is a LaCie Little Disk. Files don't fly, but it's usable. A faster, 3.5in drive and a direct Gigabit link to the router would improve matters if you want day in, day out access.
In addition to the desktop apps, Cloud Engines provides a similar utility for the iPhone, which will also let you view videos. The ability to stream to Xbox 360 and PS3 consoles is coming next month, CE told me, presumably with a DLNA-enabled firmware update. You will also be able to stream through a Pogoplug in another home to someone else's PS3 or Xbox.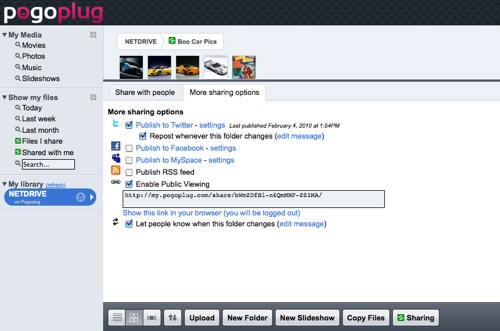 Use TwitBook to tell World+Dog you have new files to view
Which isn't bad for a £99 device. There are cheaper network drive adaptors out there - Addonics' NASU2, for instance - but it's nowhere near as easy to use.
Verdict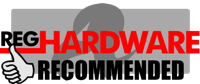 Cloud Engines' second-gen Pogoplug lets you build your own online file store that's accessible from anywhere with a net connection. You choose what drives to add - the Pogoplug does the rest, and provides access through the web or your computer's own OS. For its flexibility and friendliness, we have to rate it highly. ®
More Nas Box Reviews...

Netgear
ReadyNas NVX
Pioneer Edition

Iocell
NetDisk

Buffalo
Linkstation
Duo

Iomega
StorCenter
ix4-200d

Cloud Engines Pogoplug 2
Brightly coloured gadget that makes hooking hard drives up to the internet and sharing their contents a doddle.