IBM is achieving Copan-like packing densities with the 60-drive DCS9900 disk shelf.
The DCS9900 drive box is designed for high-performance, streaming I/O and packs its drives in vertically, in 12 front-to-back rows of five drives. These are organised into ten-packs, meaning in the SATA drive case, eight drives plus two parity drives in a RAID-6 configuration. The whole 4u enclosure slides out of its parent rack to the point where two lids on the top surface can be opened to reveal the 3.5-inch drives packed like sardines inside.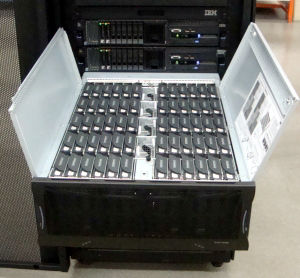 IBM has added support for 2TB SATA disks spinning at 7200rpm to maximise capacity, or 600GB SAS drives rotating twice as fast at 15,000rpm to maximise data access speed. The 7200rpm SATA drives are in addition to the previously supported 5,400rpm, 2TB drives.
With the 2TB drives, IBM says a rack of DCS9900 storage can hold up to 1.2PB, with a maximum of 2.4PB in two racks containing 1,200 drives.
The 60-drive box only supports 1TB SATA drives in the RAID-6 ten-packs or RAID-5 tenpacks of 450GB SAS drives. This is the initial arrangement and SONAS will probably add support for 2TB SATA and 600GB SAS drives as soon as they are qualified. We're told SONAS has a 14.4PB capacity limit, but that's with the 2TB drives. It's just 7.2PB with the 1TB drives initially available.
The 2TB DCS9900 can grow to store 2.4PB, with expansion units. The product is available now but no pricing information was announced. ®