Apple's iPad might be the latest thing, but Motion Computing has been selling tablet devices for more than a decade - long enough to work out what punters want from a slate.
Based in Austin, Texas, Motion Computing designs and makes computers in the slate form factor. Eschewing keyboards for a pen-based interface and still relying on Microsoft's Tablet PC platform, the company sells into a wide variety of vertical markets as well as direct to consumers. We thought we'd ask the company if it had any thoughts about how the iPad might fit into the future market, if indeed it does.
While other Tablet PC manufacturers rushed to create spinning hinges and hidden keyboards, Motion stuck to making Tablet PCs as they were envisioned: keyboardless devices designed to fit into the crooked arm for long periods. That decision pushed most of Motion's business into vertical markets - hospitals, construction and the military, as few users warmed to the new form factor. Nevertheless, the company still sells one of the very few keyboard-less Tablet PCs on the market today.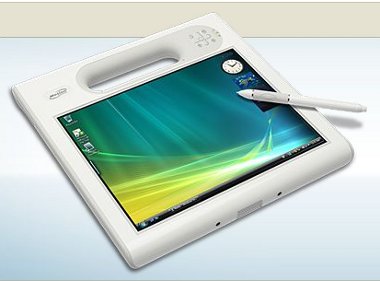 Not sure that handle will sell in the mainstream market
Most Motion Tablets look like this these, but not all of them do
"We're delighted with the iPad launch," Nigel Owens, VP for Motion, told us, "Apple has a huge profile, and the iPad launch increases the visibility of the slate form factor hugely."
So Motion isn't worried that the iPad will take away it's core vertical markets? "Our customers have specialist requirements, such as ability to be disinfected: that's vital in hospitals where everything has to be wipe-clean." So we won't see an iPad at the bedside any day soon, though Motion has heard of US hospitals taking an interest in the iPad. "We've also started to use Gorilla Glass in the last few months: you can drop a ball bearing on that. Not that we recommend that you do, but in the construction industry you have to be robust."
But it's not just the iPad hardware which won't sell into verticals, apparently: "Our customers want to use their existing systems - they've created those systems and want to see the same interface on the slate."
This draws them towards Windows, but also towards a stylus: "Nurses on duty won't want to use fingers on the screen, and neither will construction workers."
So the iPad's assault on the verticals might be forestalled - but that's not where Apple is aiming the thing anyway.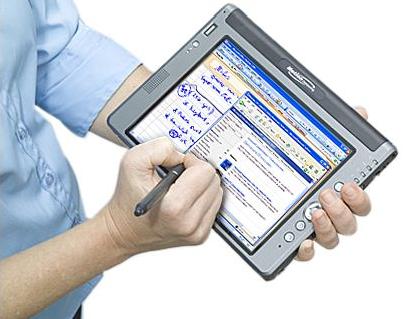 A Tablet PC for the handbag, crossing demographic boundaries
"We do sell a few to end users, but it's not a big part of our business," admits Owens. Ordinary users aren't so interested in the slate form factor, at least not at the price Motion is asking.
We put iSuppli's estimate of the iPad construction costs to Owens, who greeted them with some surprise. "I hadn't heard that. If they're putting it together at that cost... that's very impressive."
We talked more about consumer applications: "Peripherals are everything. We work very hard to ensure we have the right peripherals in place for every device."
Apple, of course, can leave that to its legion of third-party manufacturers. Motion reckons that one in four of its customers buys a docking station - keyboard, mouse, and, most importantly, stand. That will probably be higher if iPad users are going to watch any quantity of video - no-one watches an hour and a half of film played back from the crook of their arm.
One peripheral Motion do sell a lot of is extended batteries: "Customers will spend money, and carry more weight, for a longer battery life," suggested Owens. A fully-loaded Tablet from Motion can match the iPad's ten-hour battery life, which is what users want.
So Motion isn't worried about competition from the iPad - the company believes in the slate form factor and it sees greater exposure as a good thing for everybody. If the iPad doesn't transform consumer behaviour, then there will still be hospitals and construction sites willing to pay for the privilege of not having a keyboard. ®