Where does Mozilla go when the monopoly witch is dead?
After MS, after browsers - we talk to Mozilla head Mitchell Baker
So what would Mozilla do if it ever won? The question, which The Register asked of Mozilla Foundation head Mitchell Baker a couple of weeks ago, may be slightly premature, but Mozilla most certainly isn't losing, and The Beast, while still gripping hold of a goodly chunk of the browser market, is bloodied and reeling.
Scarcely a week goes by without somebody saying something hurtful about IE6.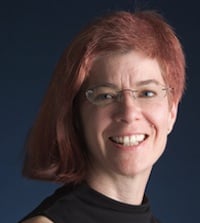 But Microsoft Internet Explorer still has over 60 per cent of the browser market, with Mozilla Firefox lying second at around 25 per cent, and Google's Chrome and Apple Safari down around the 4-5 per cent mark. So for Mozilla, how much is that success, and how much victory?
It's not all about The Beast
Baker points out that perceptions have shifted substantially since the early days of Mozilla. "For a long time we were regarded as being on a fool's mission," she says. "When we started, nobody talked about browsers", because the browser came with the operating system and was, to 'normal' users, part of Windows. Just as, in Microsoft's view, it was inextricably intertwined with the operating system.
But now normal people do talk about browsers, and the company that used to tell you removing IE from Windows was impossible and would break everything is cutting a browser ballot deal with the EU, and accepts at least to some extent that a browser could be something separate.
So it's at least arguable that if there's a threat to any of the objectives set out in the Mozilla Manifesto, it's no longer so likely to come from Microsoft, and it's possibly no longer to do with browsers.
Nor is the complete destruction of Microsoft a necessary part of the deal. Mozilla's mission, says Baker, was not explicitly to get Microsoft - it's set out in rather broader and more enduring terms in the manifesto. Competition is necessary, and had to be re-established, and for Mozilla, the Internet is "a global public resource that must remain open and accessible". Security is fundamental, not optional; the Internet's effectiveness depends on interoperability, transparency, accountability and trust, and "individuals must have the ability to shape their own experiences on the Internet".
That one (point 5) seems to be where Baker is at at the moment, although she's fairly guarded about it. Speaking earlier at a session at DLD in Munich, (video) Baker had described Firefox as the "first necessary step", a mechanism for breaking the monopoly.
This was a process of disruption, and "we still intend to continue disruption… not based so much on cost, because we've now moved into a phase where everything is free of charge to consumers. For Mozilla and Firefox the key to disruption is the control point, so our original disruption of the first monopoly was to actually build an industry and to crack the control point open to get to the stage… of creating value."
Who controls the control point?
Baker's repeated reference to "the control point" is all about manifesto point 5, the individual's ability to shape their own Internet experience. Monopoly one (actually Microsoft's second effort, as the Microsoft Network preceded Bill Gates' discovery of the Internet) was Microsoft's attempt to control the experience via Windows. Firefox certainly played an important part in heading this one off, although Microsoft's failure to build anything sufficiently compelling to keep users within the Church of Windows was probably also a factor.
But by referring to this as "the first monopoly", Baker seems to be suggesting at least the possibility of subsequent monopolies. What, or who, might they be?
She's not specifically telling, and she's annoyingly polite about everybody, but she set the scene to some extent for the DLD audience. "We are building a slice of the internet where the only agenda is the individual control of our online experience… the browser is a first step, [then] probably identity, something to do with data, what is the sense of me, where is the home of me in this giant, large scale, automated Internet?"
Asked about this later, she was guarded. There's more to Mozilla than Firefox. "The mission is not to produce a browser, it is to build certain qualities into the human experience of the Internet… We are in a reasonable spot with the browser, and Firefox is important for the immediate future. But we've barely started in user control."