Review If you are Chinese then 2010 is the year of the tiger, but if you are a geek then it is the year of the slate or tablet. Obviously, most people are thinking about the iPad when they start banging on about such things, but the newest consumer targeted device of this ilk to hit the shops is the 9, the first attempt at a genuine UMPC device from French PMP maker Archos.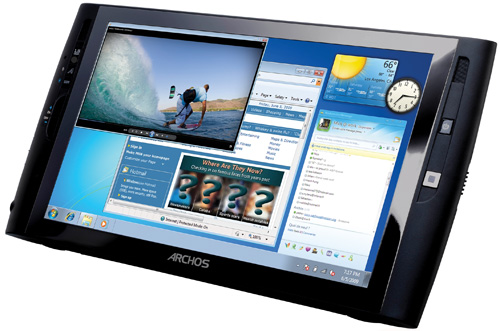 Slate of the art? The Archos 9 PCtablet
Of course, Archos machines have a long tradition of including functionality more usually associated with PCs than PMPs. These features include wireless connectivity, UPnP streaming, web browsing and e-mail access and it has even started to flirt with Android as an operating system. The 9 however purports to be a fully fledged PC rather than just a PMP with added PC-like functionality.
In the hand the 9 feels similar to the Archos 7 we looked at 12 months ago, only writ larger. The basic construction is much the same and though the case is plastic, rather than metal, the 9 shares the 7's solid hewn-from-a-block-of-granite feel. At 256 x 134 x 17mm and weighing 800g the 9 is quite a hefty device – big for a PMP, small for a netbook yet ideal for a tablet, although holding it is definitely a two handed affair.
Inputs and outputs only extend to a power jack, a single USB port and a 3.5mm audio output but if you cough up £60 for the Archos port replicator that plugs into a concealed proprietary jack at the bottom you can extend that by 2 additional USB ports, an extra audio out, a microphone input, a VGA port and a 100/10 Mbps Ethernet socket.
The 9's external controls are reasonably well thought out and easy to use. The optical trackpad on the right hand side of the device below the power button lets you move the cursor around both easily and accurately, while still keeping a firm two-handed grip. It's complemented by two nicely weighted mouse buttons on the left above which sit a button to launch the virtual keyboard and the "A" key which curiously emulates Alt-Control-Delete on a grown-up Windows PC.

An optional docking station expands the connectivity considerably
Pressing the A key and either mouse button also acts as a shortcut to activate the Wi-Fi radio and Bluetooth but it's not an easy manoeuvre, as both the A and keyboard buttons are a little too small and a little too close together. The power key could also do with being somewhere less exposed and, ergonomically, the 9 would benefit from having a trackpad on both sides. Three LEDs on the left of the device show the status of the hard drive, power and charge but it's a shame the external controls are not back-lit for use in low light.