MWC Sony Ericsson has added a slide-out Qwerty keyboard to its Vivaz touchphone, allowing it to append the new handset with the 'Pro' moniker.
Like the Vivaz, announced in January, the Vivaz Pro sports a 3.2in, 16:9 display. It can connect over three HSDPA 3G and four GSM/GPRS/Edge bands.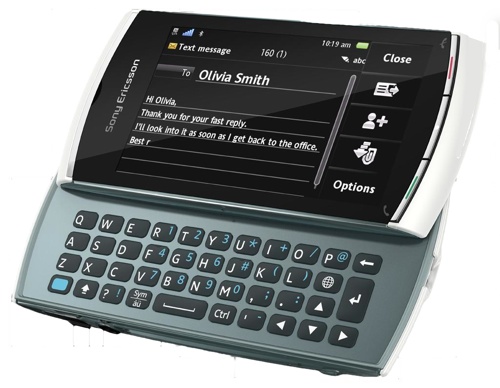 Sony Ericsson's Vivaz Pro: 'Pro' means 'added Qwerty keyboard
The original was pitched as a handset for video lovers - it features an 8.1Mp camera and the ability to shoot 720p HD movies. The Pro model has these features too, but SE stressed its suitability for social networking above its ability to provide even more material for YouTube.
SE also waffled thus: "Designed to mirror the shape of the human body... at the same time delivering a precise and compelling way of interacting with the phone."
Based on the Symbian OS, the Vivaz Pro will go on sale in Q2. There's no word yet on pricing - which will depend on carrier subsidies, in any case. ®