This article is more than 1 year old
Doctor Who attempted to overthrow Thatcher
Sylvester McCoy in shock subversion claim
Former Time Lord Sylvester McCoy has sensationally claimed that during his tenancy of the Tardis he and left-wing scriptwriters attempted to otherthrow the government of Margaret Thatcher.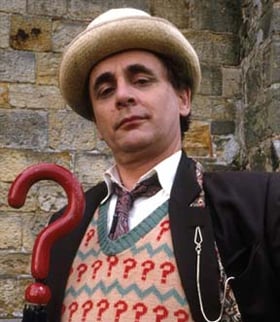 According to the Sunday Times, both McCoy (pictured) and script editor Andrew Cartmel admitted the sinister scheme, which was hatched when the former filled the Doctor's shoes three months after Thatcher's 1987 third election victory.
McCoy recounted: "The idea of bringing politics into Doctor Who was deliberate, but we had to do it very quietly and certainly didn't shout about it.
"We were a group of politically motivated people and it seemed the right thing to do. Our feeling was that Margaret Thatcher was far more terrifying than any monster the Doctor had encountered."
Cartmel recalled his reponse to Who producer John Nathan-Turner, who asked him what he hoped to achieve as script editor. He said: "My exact words were: I'd like to overthrow the government. I was a young firebrand and I wanted to answer honestly. I was very angry about the social injustice in Britain under Thatcher and I'm delighted that came into the show."
Cartmel's team of writing malconents included Ben Aaronovitch, son of Marxist intellectual Sam Aaronovitch, and Rona Munro, later to become a scriptwriter for filmmaker Ken Loach.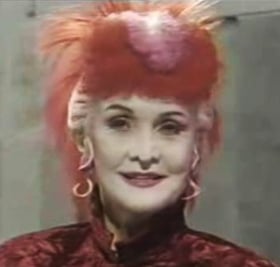 This nucleus of agitators, backed by the Who crew who "weren't very happy" with Maggie, set about undermining the Iron Lady with 1988 three-parter The Happiness Patrol, in which Sheila Hancock plays Thatcher caricature Helen A (see pic), "a dictator who requires her subjects to be happy... or die".
They backed this body-blow with further subversion, including kids spin-off book Turlough and the Earthlink Dilemma, which has a character called Rehctaht - Thatcher spelt backwards.
Sadly, Cartmel admitted the satire went completely unnoticed. He said: "Critics, media pundits and politicians certainly didn't pick up on what we were doing. If we had generated controversy and become a cause célèbre we would have got a few more viewers but, sadly, nobody really noticed or cared."
An ailing Doctor Who was canned in 1989, while Margaret Thatcher survived until she was dethroned as PM in 1990.
Regarding the alleged plot to bring down Thatcher, a BBC spokesman said: "We're baffled by these claims. The BBC's impartiality rules applied just as strongly then as they do to programmes now." ®