My 79-year-old mother-in-law recently started computer lessons, mostly to help her go Googling and maybe, just maybe to send emails to fellow members of her bowls club. After many years as a computer-denier, she now sees the point – but computer mice will remain ever horrible to her.
Don't get her started on mobile phones - the menus are confusing, she can't see the screen so well and the number buttons are much too small. Besides, who needs a camera on your phone when you have a camera? And why send or receive a text when you ring up and speak?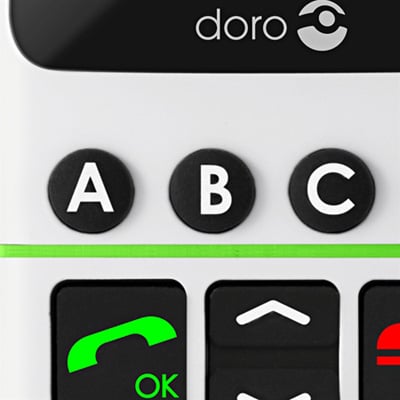 She wants one of these – a Doro PhoneEasy 338GSM, designed specifically for the "senior market" (our review is here). This has a phone book she understands how to use and buttons that can be hotwired to key numbers, such as the AA.
My mother-in-law is not poor by any means, but given that she switches on her phone only when travelling, she can't understand why it should cost almost £100!.
At least we know what to get her for her eightieth.
Cold on calls
This makes my mother-in-law, or maybe me the buyer, prime territory for Doro, a Swedish company, which today released the results of a survey into mobile phone usage and attitudes towards new consumer technologies of 2000 old people (65yrs and above) in various rich countries.
Conducted by a market research firm called Synovate, the survey reveals that 77 per cent of "seniors" in the UK have access to a mobile phone, but that 49 per cent are intimidated by and hesitant of new technology. British oldies use their mobile phone mostly to make calls (73 per cent) and secondly for text messages (37 per cent). Unsurprisingly, respondents aged 75 and above are less likely to own a mobile phone (about two-thirds have one) than those aged 65-74 (more than 90 per cent).
Doro's pitch is that phones designed with old people in mind encourage their owners to call and use services to a much greater extent. This in turn improves the "quality of their lives and encourage social engagement – this ensures that the individual retains a support network of family and friends".
There are an awful lot of old people and their eyesight, hearing and dexterity rarely improves with age. So there should be strong market for senior market phones today - if the cellcos learn how to promote them.
But what about old people of the future, the young of today? They will want internet, email, social networking, games, sundry apps, camera, and they will know their way around a phone menu and a big touchscreen. Big buttons would be nice too. ®