Facebook goes lighter than Lite
Yes, it's Facebook Zero
MWC Facebook is introducing a lower-than-low-bandwidth way to get aboard its überpopular social-networking service.
None too surprisingly, it's called Facebook Zero.
According to a the BBC, the service is essentially a text-only version of the Facebook service designed for areas where mobile bandwitch is near-nonexistent - which, as one wag at Inside Facebook put it, ranges "from someone in an especially rural part of Siberia to an iPhone user in downtown San Francisco."
The new service was introduced at the Mobile World Congress in Barcelona by Facebook's Chamath Palihapitiya, who has the thoroughly Web2.0rheic title of Vice President of User Growth, Mobile, and International Expansion. Although he provided scant detail, the service will be offered to carriers as an inducement to get their customers to trade up from basic service to a "premium" data plan when they want to move beyond mere text to such niceties as photos.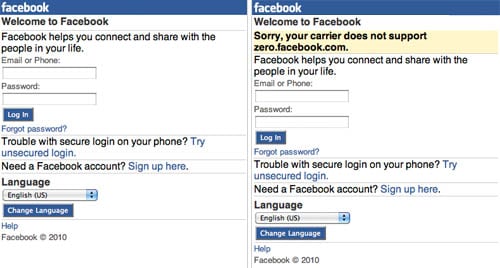 Facebook Mobile (left) is up and running, while Facebook Zero (right) awaits carrier adoption
Facebook already has low-bandwidth services that supplement its main browser-based offering: Facebook Lite, Facebook Mobile, and a version of the mobile app optimized for touchscreen phones other than the iPhone and those built on the Android OS, which have their own native Facebook apps.
The new Facebook Zero will be lighter than Lite and provide mobility to more users than Mobile. Not that Facebook is lacking in mobility. The company recently announced that out of its 400 milion users, 100 million access it from a mobile service each month.
Facebook zero will presumably be offered for free to mobile carriers, and seeing as how it's designed to help them up-sell their data services, we predict it will be a popular offering when it's released in coming weeks.
Don't try to access it quite yet, though. Since it was just announced today, carriers haven't yet jumped aboard this premium-data-plan-inducing gravy train. But they will. ®