This article is more than 1 year old
NFC gains Wi-Fi connection, loses name
Proximity payments standard suffers ID crisis
MWC With Wi-Fi-connected toggles and single-wire-protocol SIMs, everyone seems to be trying to make NFC work, even if it's not going to be called that any more.
Advocates of Near Field Communications (NFC) keep holding trials of the technology - there's even one here in Barcelona during the Congress - but users and operators still don't get the point of NFC, which in turn means that manufacturers have no incentive to embed the technology. Meanwhile, the NFC Forum has noticed that it doesn't even own the "NFC" brand and has been forced to create a new logo, while it tries to explain that it never intended anyone to call the technology "NFC" in the first place.
The NFC trial running at the Congress is pretty typical: NFC World reports the details of 400 Samsung handsets and SIMs loaded with €60 of air time, and €75 to spend on snacks around the congress. This enables those running the trial to declare it a success when all the free money is spent.
The only interesting part is the fact that these handsets have embedded NFC antennas connected to SIMs and communicate over the Single Wire Protocol (SWP). This was developed for just such circumstances as these, but it has hardly had an outing since the specification was published more than two years ago.
Handsets supporting SWP were supposed to allow operators to deploy NFC without having to involve handset manufacturers, only operators have never asked manufacturers to include the technology and they've little incentive to do so otherwise.
Getting around the problem are Sagem Orga and Telenor, who've created an NFC key-fob-sized toggle to make use of Sagem's new Wi-Fi-enabled SIM. The idea is that the toggle has NFC and Wi-Fi too, and communicates with the NFC infrastructure - such as the ticket gate or pay point - and passes that communication over a 2.4GHz Wi-Fi signal, which is strong enough to penetrate the phone's casing. We like this idea a lot, but it should really be combined with the Home Office idea of an NFC card which is then used to authenticate the transaction - there's nothing like using three radio transceivers to replace one paper ticket.
The other alternative is, of course, to give up NFC and use RF SIM instead - as China Mobile and others are doing. But what's interesting is that those companies happily describe their 2.4GHz-battery-powered RF SIM as "an NFC technology", despite its clear difference from NFC's 13.56MHz-induced-current-powered tech.
Only it turns out that it isn't. When we contacted the NFC Forum (publishers of the NFC specifications) we were told that "The NFC Forum has not sought to trademark registration for, or asserted exclusive rights to the individual terms 'near field communications' or 'NFC'". So they haven't sought it, but perhaps they should have done, as now the Forum admits that "these are general terms used to describe short-range high-frequency wireless communications technology".
But that's not what the NFC Forum has been saying in the past, and indeed it's not what its web site says now on its "About NFC" page: "operating at 13.56MHz and transferring data at up to 424Kbits/sec, NFC provides intuitive, simple and safe connections between electronic devices". That all sounds pretty specific to us.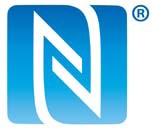 N-Mark, the new name for NFC, which was never called NFC, apparently.
The NFC Forum has already expanded its (NFC) standards to incorporate MiFare and similar systems, so perhaps this is all a long-term play for when RF SIM comes along and replaces everything else. That way, the "NFC Forum" can still claim success and hope that no-one remembers the long-failed standard it tried so hard to promote. ®